DVD Review – "Waking Sleeping Beauty"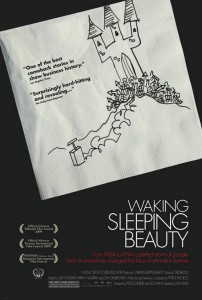 I briefly talked about Waking Sleeping Beauty last week in my "DVD Picks of the Week" so I don't want to reiterate everything I said before.  But the main point is that I love Disney musicals, and as soon as I saw the trailer I was dying to see it.  After getting a chance to watch it, I enjoyed it, but it left me wanting a little more.
Far from a fairytale, Waking Sleeping Beauty is an unprecendented eye-opening look at the conflict, drama and tension that ushered in the second chapter of Disney's animation legacy – a decade of unparalleled creativity that in cluded The Little Mermaid, Beauty and the Beast, Aladdin, and The Lion King.  Told by the people actually there, Waking Sleeping Beauty is a behind-the-magic look at the people and circumstances that changed the face of animation forever.
What do you think of when you think of Disney animation?  I think of classic hand drawn art, classic fairytales, and fun musicals.  It blows my mind to learn that the animation division of Disney almost collapsed right before my four favorite Disney films were even released.  The film is very interesting.  You get to see and hear familiar names like Tim Burton and John Lasseter.  You get to see the original plan that was scrapped for the Oscar nominated Beauty and the Beast.  If you are a fan of animation, Disney, or these films the documentary will keep you engaged.
But it feels like it is keeping you engaged for a long time.  While the film is only 86 minutes long, I checked my watch twice while watching it.  And I am not the type of person who checks my watch during movies.  The film just drags a little bit in the movie.  It gets into the business side of the affair quite a bit and who dislikes who.  I guess I was hoping for more of a behind the scenes look at the making of the four films since those four ressurected the studio.  While those four are focused on, the film is much more about the whole studio and all of its endeavors.
Overall, I enjoyed the film, but it didn't wow.  The last documentary I watched was Every Little Step, a film about the Broadway revival of A Chorus Line.  I absolutely loved that film and have watched it multiple times in the past year.  Waking Sleeping Beauty didn't live up to my enjoyment of that film which I was hoping it would.
Overall, I give Waking Sleeping Beauty a B+