Drunken Ewok Halloween Video From Today Show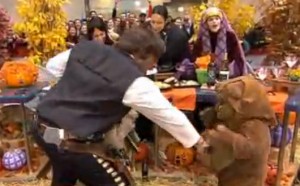 If you haven't seen enough Halloween videos this year, or you can't wait until next year, here is one more video to celebrate the holiday.
While describing ways to decorate around the house for Halloween this year, Al Roker had a couple of Ewoks on the Today Show. The two seemed to be acting rather unusually while taping the video, and started fighting and taking over the segment. People are saying that they were drunk – even Al Roker.
During the video, Al goes to break up the two fighting Ewoks and almost gets karate kicked by one of them. The woman speaking says, "this is what it's going to be like on Halloween. Try and make sure your kids don't have too much candy…" And Al says, "make sure your kids aren't drinkin'."
Watch the video below. Do you think the Ewoks were drinking before their Today Show appearance this year?