Disney's "A CHRISTMAS CAROL" Train Tour, Next Stop St. Louis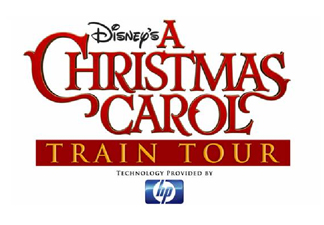 "Disney's A Christmas Carol" Train Tour is coming to St. Louis Union Station this weekend! July 31st through August 2nd.
Sponsored by HP and driven by Amtrak, the Train Tour will travel more than 16,000 miles and pass through 36 states. Amidst a winter wonderland with holiday décor and Christmas carolers, visitors will see footage from "Disney's A Christmas Carol" inside a state-of-the-art Digital 3D theatre which will be erected in each city. Visitors can also check out the cutting-edge technology behind the film, as well as artifacts from the Charles Dickens Museum and interactive games where guests can explore Dickens' London and morph their face into characters from the movie using HP TouchSmart PCs. HP powers the interactive components of the Train Tour and its technology is used in the production of the movie. Radio Disney will invite kids to enter for a chance to become a Movie Surfer representing their hometown. Each Hometown Movie Surfer will get a chance to appear on Disney Channel by filming their very own Movie Surfer's segment! Guests will also have a chance to win an HP TouchSmart PC and HP Photosmart wireless printer in every market. This family event is for guests of all ages and is free to the public. The train tour is traveling cross-country with stops in 40 cities, culminating in November at New York City's Grand Central Terminal. The latest details about tour stops and scheduled events are available at www.christmascaroltraintour.com.
The event is free and open to the public. Check out the map of the tour below:
"Disney's A Christmas Carol," a multi-sensory thrill ride re-envisioned by Academy Award®-winning filmmaker Robert Zemeckis, captures the fantastical essence of the classic Dickens tale in a groundbreaking 3D motion picture event. Ebenezer Scrooge (JIM CARREY) begins the Christmas holiday with his usual miserly contempt, barking at his faithful clerk (GARY OLDMAN) and his cheery nephew (COLIN FIRTH). But when the ghosts of Christmas Past, Present and Yet to Come take him on an eye-opening journey revealing truths Old Scrooge is reluctant to face, he must open his heart to undo years of ill will before it's too late. The movie opens nationwide November 6, 2009, in theatres, Disney Digital 3D™, and IMAX® 3D.
For more information on the "Disney's A Christmas Carol" Train Tour, visit disney.go.com/disneypictures/christmascaroltraintour