Disney's "Old Dogs" is out on Blu-ray and DVD! Enter to Win a Copy Today!
Available March 9th on Disney Blu-ray™, DVD, and Digital Copy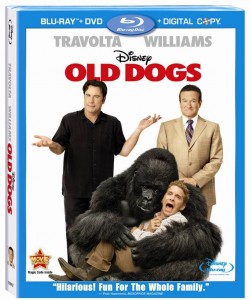 Two best friends – one unlucky-in-love divorcee (ROBIN WILLIAMS) and the other a fun-loving bachelor (JOHN TRAVOLTA) – have their lives turned upside down when they're unexpectedly charged with the care of six-year-old twins while on the verge of the biggest business deal of their lives.
The not-so-kid-savvy bachelors stumble in their efforts to take care of the twins (newcomers ELLA BLEU TRAVOLTA and CONNER RAYBURN), leading to one debacle after another, and perhaps to a new-found understanding of what's really important in life.
Directed By: Walt Becker
Original Release Date: 3/9/10
Written By: David Diamond & David Weissman
Studio: Walt Disney Pictures
MPAA: PG.
Enter to win a FREE Blu-ray / DVD Combo Pack today!
To enter, visit ReviewSTL on Facebook – http://www.facebook.com/pages/ReviewSTLcom/82365196863 – and become a fan! Then post a comment on the ReviewSTL Facebook page, telling us why you want to own the movie!
Leave a message in your status saying @ReviewSTL.com is the best site for movie giveaways!
Good luck! Don't Forget – Disney's "Old Dogs" is out on Blu-ray / DVD today!