Del Toro Wants To Terrify Kids With Pinnochio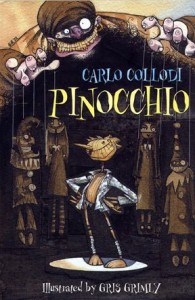 I love Guillermo Del Toro as much as the next guy, but I want him to do original stuff.  The man has an incredible imagination and vision that can't be matched.  I want him to do more stuff like Pan's Labyrinth rather than adapt Frankenstein in his vision.  Now he wants to do Pinnochio.  Good idea?
Guillermo will be co-writing and producing the project that will be directed by Gris Grimly and Mark Gustafson.  Guillermo wanted to direct but is still waiting on his greenlight for At the Mountains of Madness.  It will be a stop motion film with the same people who did the puppets for Fantastic Mr. Fox and Corpse Bride.  What did the man himself say about the project?
There has to be darkness in any fairy tale or children's narrative work, something the Brothers Grimm, Hans Christian Anderson and Walt Disney understood.  We tend to call something Disney-fied, but a lot of people forget how powerfully disturbing the best animated Disney movies are, including those kids being turned into donkeys in Pinocchio. What we're trying to do is present a Pinocchio that is more faithful to the take that Colodi wrote. That is more surreal and slightly darker than what we've seen before.
Like I said before, I like del Toro.  It helps knowing that he helped write it and was originally intending on directing.  It means his vision and imagination will be more present than some other films that he produces.  Plus, I love stop motion animation.  So count this as a film on my radar.
What film would you love to see a dark, scary version of?