DC Moving Forward With 'Justice League' and 'Wonder Woman' Films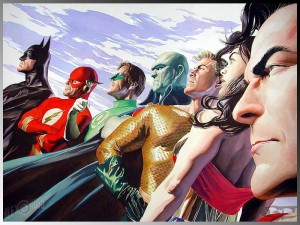 The Avengers has dominated everything.  Domestic box office numbers.  Global box office numbers.  Superhero films.  Every film except for Titanic and Avatar.  Of course this is good news for superhero genre fans like myself.  I love costumed heroes with superpowers, and the success of The Avengers will result in studios wanting to cash in on the trend and make more.  Let's hope more of them turn out to be like The Dark Knight, Iron Man, and X-Men: First Class and less like Ghost Rider, Elektra, and Fantastic Four: Rise of the Silver Surfer.
The Avengers is also making an even greater impact.  Fans will finally be getting a Justice League film that they have been teased about for years.  While George Miller was very close to making his version of the superhero group (with a very interesting cast) back in 2008, it appears we are closer than ever to seeing the team together on the big screen.  Variety is reporting that a screenwriter has been brought on board… and he has been working on it for a year!!
Will Beall is most notable for being a writer on one of my favorite television shows Castle.  But recently he is stepping up to the plate and working on a lot of scripts including Logan's Run, Lethal Weapon 5, and the upcoming Gangster Squad.  While it is great to hear that DC is pushing ahead with this film, the greatest reason for the success of The Avengers is writer and director Joss Whedon.  He is a comic book guy.  He knew those characters.  Maybe DC should have hired someone with more comic experience? Maybe?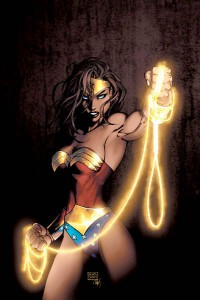 And hot on the heals of the Justice League news is that screenwriter Michael Goldenberg has been hired to write a script for Wonder Woman.  Princess Diana is the biggest name in the Justice League that has not had her own movie.  Green Lantern, Superman, and Batman have all seen the big screen limelight to varying degrees of success.  Is DC setting up a plan similar to what Marvel did?
It's also rumored that Marc Guggenheim and Michael Green are working on The Flash screenplay with Greg Berlanti to direct.
Here's my two cents on what should be done moving forward, not that you asked for it.  "Man of Steel" is rebooting the Superman franchise which will obviously be within the same realm as a Justice League film.  Make a Green Lantern sequel similar to what Marvel did with The Incredible Hulk.  Get a new actor to play Hal Jordan or use the John Stewart storyline to just create a new Green Lantern.  Batman does not need his own film after the Nolan franchise to lead into "Justice League".  Just cast a new actor as Bruce Wayne and make more Caped Crusader films after "Justice League".  "Wonder Woman" gets her own film that will bring her from Themyscira to Earth so she can be recruited for Justice League.  DC is giving Flash his own film, but I would just throw him in the mix with "Justice League" similar to Hawkeye in "The Avengers".  DC would only be looking at two new films (aside from Man of Steel). Green Lantern 2 and Wonder Woman for 2014 and Justice League in 2015.  Sign me up.
Obviously this will not happen according to my plan.  But I think DC should just copy the Marvel plan.  Why not?  It worked.  Sure Thor and Captain America weren't huge successes, but they served their purpose and true fans enjoyed them.  If they can turn Green Lantern 2 and Wonder Woman into big blockbusters then great.  The framework is already layed out for them.  No one is going to care if they are copying as long as the movies are good.