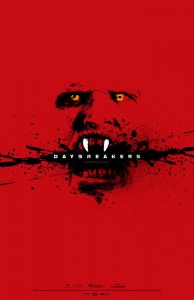 DAYBREAKERS
Release Date: January 8th, 2010
Edward Dalton is a researcher in the year 2019, in which an unknown plague has transformed the world's population into vampires. As the human population nears extinction, vampires must capture and farm every remaining human, or find a blood substitute before time runs out. However, a covert group of vampires makes a remarkable discovery, one which has the power to save the human race.
This movie looks AMAZING! I hope that it turns out as good as it looks in the trailer. The story has a very interesting premise, and it looks like it was done very well. Plus – Willem Defoe in an action / horror vampire hunter role? What's not to love about that!