Criss Angel is Dead? Nope.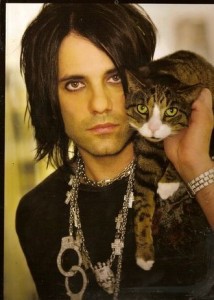 So rumor has it that magical douchebag Criss Angel is dead. Is this true?  As much as I wish it was, no.  Apparently the goth (or whatever the hell he is) magician is in great health (although he might be nursing a crack habit, you heard it here first).
In a celebrity world where Twitter rules all, many people have been disturbed because he hasn't tweeted for a whole 10 hours. This isn't because of an untimely death, but more due to the fact that he probably has better things to do with his time. So, let's not freak out people sometimes people just need a break. It's all part of his next mindfreak on you, he managed to withhold his silvertounge from Twitter for a massive ten hours? Could you do it? I don't think so. It's probably his greatest feat so far, which is really saying something. His last trick consisted him successfully parting his hair in a way that made teen girls cream their pants. (Is that possible?)
So, on a more serious note. Criss Angel's Mindfreak  premieres Wednesday August 12th for a fifth season. A&E some how continues to air this train wreck on air, and the real magic is that people actually watch.
Watch Criss's amazing (pre-recorded) escape of a building about to implode.
Geez, I think this guy might be the coolest person I've ever seen. Did I say coolest? My mistake I meant douchiest…I make that mistake a lot.