Could Chromecast Be What Steve Jobs Intended the iTV to Be?
This past week, Google released a product that aims to take on the likes of Apple and Roku. It's called the Chromecast. This small thumb-drive sized device plugs into an HDMI port on your television and receives signals from your smartphone or computer. It's important to note that the Chromecast is not a standalone device like a Roku box or AppleTV. In fact the Chromecast doesn't even have a remote control, which as we will discuss is the genius of this product.
Purchase the Google Chromecast on Amazon.com for $34.99.
During one of his last interviews with Walter Issacson, Steve Jobs spoke about his plans to disrupt the television market. Having disrupted the personal computing, music and telecommunications industries, TV was a logical next step. The following is a quote of what Jobs imagined.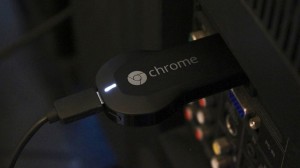 "I'd like to create an integrated television set that is completely easy to use. It would be seamlessly synced with all of your devices and with iCloud. It will have the simplest user interface you could imagine. I finally cracked it."
Now imagine this new Chromecast. Instead of using a frustrating, outdated remote to control the interface, pause, play, fast-forward, etc. we already have the best tool for that job at our disposal…our smartphones. We already have access to every piece of media in the world on our phones and computers, why create more barriers between them and the primary display in our homes. Chromecast simply links the devices we already own to our television. As far as the underlying technology goes, Google has given us the best of both worlds. Instead of simply mirroring our phone or computer's display like AirPlay does (and dealing with laggy performance), the Chromecast is actually pulling down the source material itself and playing it locally. This of course relies on developers for Netflix, YouTube, etc. writing that software that allows this. However, if there is a video on the internet that hasn't written software specifically for the Chromecast, it will allow you to "cast" or transmit literally any page from the Chrome browser to your TV. This means you can browse Facebook, Craigslist, your own blog and countless video sites such as ABC, NBC, Fox, etc. that would rather you not be able to get their content in this manner.
While playback quality suffers if you're casting from the tab, this will probably be fixed with future updates. Pandora, HBOGo and Plex have all expressed interest in developing for the Chromecast, and with capabilities like this, it would be hard to imagine why content creators wouldn't want to be available on this platform.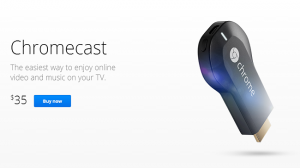 Oh, I forgot the best part of this device. It's $35 and it works with Android, iOS, Windows, Mac OS and Chrome OS. Everybody can use it. It's currently out of stock on Amazon and has delayed shipping at the Google Play store. So if you consume any kind of audio/visual media and have a computer and/or smartphone, I can't recommend this device enough.
What are your thoughts? Could this have been the same idea that Steve Jobs had about the iTV? Let us know in the comment sections below.