Concert Review: The Band Perry at Delmar Hall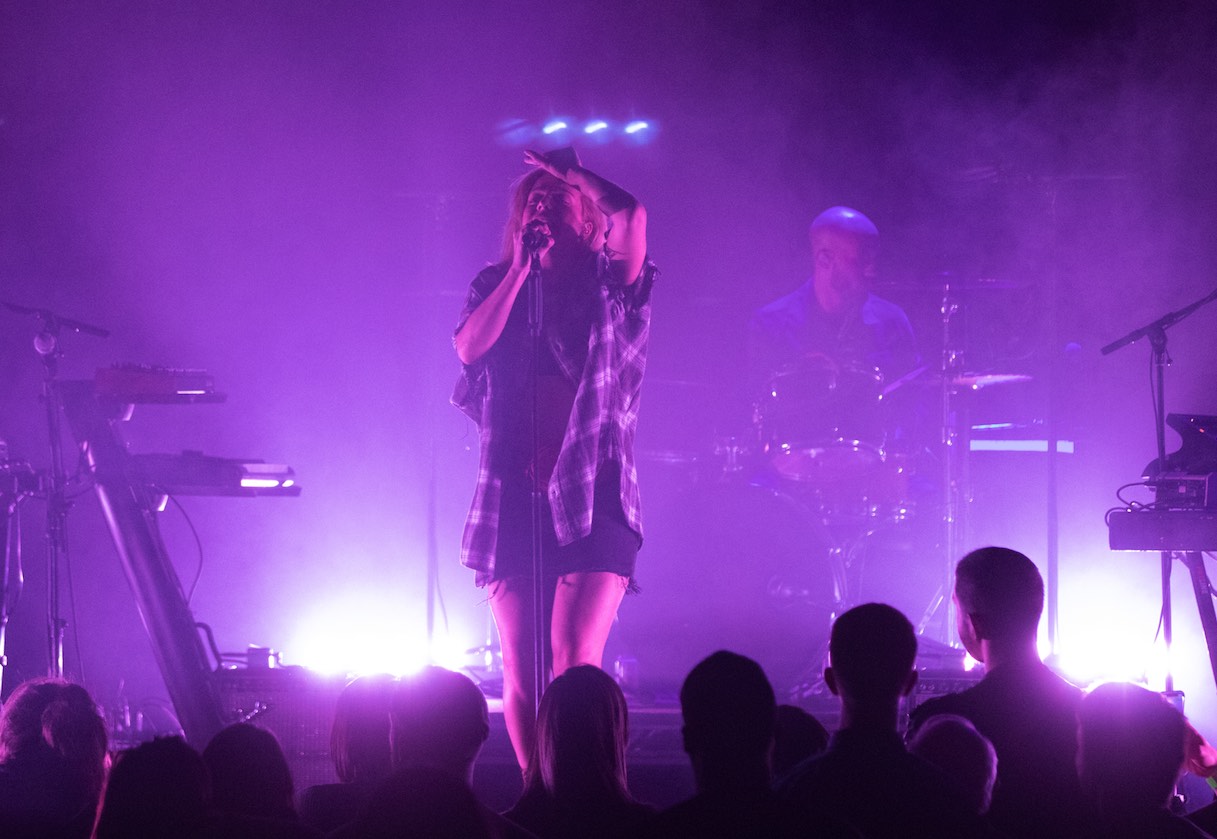 Story by Laura Gieseking
Photos by Lee Goodman
If you came here to read a country music/pop band review, you are in for a big surprise, as were quite a few people attending The Band Perry concert at Delmar Hall in the University City Loop in St Louis on Sunday night.  When you think of The Band Perry, you probably think in terms of country-pop crossover, banjos, catchy melodies, fiddles, etc.   In 2010, the band catapulted to stardom with the haunting ballad "If I Die Young" which paved the way for a string of similarly bubble gum-esque hit songs like "Done" and "You Lie".  And then…… nothing.  They left their label and have been pretty quiet.
The first sign that fans might be in for an adventure was the background electronic music playing before the show.  Strange that they would play alternative electronic music before a country show, right?  First hint:  They didn't.
The evening kicked off with a fantastic opening act called Dream Chief.  This duo from Indianapolis are first cousins, John and Luke Tuttle.  (Note the family theme for the evening, The Band Perry is a sibling group.)  This evening marked the very first time that they have played in St Louis, and they were so charismatic and fun to watch, hopefully not the last.  They are considered electric pop, and if you think of electronic music as just faceless guys with soundboards and keyboards, these two prove that there is so much more that goes into making electronic music.  I got a chance to chat with them after their set, and Luke mentioned that they have played together their entire lives, but been working on this project for about three years.  They have had some success on Spotify with a viral hit called "Can't Shake U" in 2018 and were also featured on VH1's talent search "Make a Band Famous" in 2014.  They were refreshing and different, and have a brand new song on Spotify called "Can't Get Enough".
Have you noticed the theme for the night yet, aside from the family angle?  Hint number 2:  Electronic music. The Band Perry has undergone what I can only describe as a fairly drastic change in their sound.  Gone are the banjos, simple melodies, and brunette hair.  Hello synthesizers, sound mixers, and blonde hair.  I don't want to classify this new sound as electronic music, however, because there's something more going on.  If you were to ask me to describe this genre in one word, I would be hard pressed.
The Band Perry is a group of three siblings, Kimberly Perry, Reid Perry, and Neil Perry, all from Jackson, Mississippi.
The set opened with a new song called Seven Seconds.  The tune was not familiar, the instruments less so, but then Kimberly started to sing, and there it was, that clear and unmistakable distinct voice.  But what was she singing?  Definitely not country, definitely not pop, but can electro music actually be catchy?  The answer is- yes!  The first two songs were from their new release "Coordinates".  Kimberly explained while onstage that this entire tour is about changes- both personal and professional growth.  "Coordinates" refers to an exact point on the map, and she compared that to being exactly where you are in life at this very moment.  The exact spot.  Coordinates.
The next two songs were back to back hits "Better Dig Two" and "You Lie"..  But played in a new style, with an electro twist.  They played another new song and then did a Post Malone cover, "Go Flex".  The big hit :If I Die Young" came not at the end, but about halfway through the set, before the boys took over.  Neil sang lead for a really fascinating cover of Oasis' "Champagne Supernova."  Let's just say that in involved Peter Frampton-like voice box vibes and was really fun to listen to.  Up next was Reid's turn, and that's when you really knew we weren't in Kansas anymore.  Launching into a spectacular rendition of "Personal Jesus" (Depeche Mode) AND "The Beautiful People" (Marilyn Manson).  Not back to back, but a mash-up of the two songs melded together, delivered with a Trent Reznor style of delivery.  You can go back and read that last sentence.  But to be clear, I felt like Nine Inch Nails inspired this style.  They closed the show with their hit "DONE" followed by Kimberly's "favorite song from this album" a tune called "Marfa Prada".  By the time we arrived here, the transition into this new Band Perry was complete.  I would never have believed that a country pop group could have made this kind of extreme genre change successfully, but let me tell you, it was a great experience, and I felt lucky to have been able to see this show.  I can't wait to see what they will come up with after this!  There are not that many genres left.