Concert Review: Super Jam Featuring Post Malone at Hollywood Casino Amphitheatre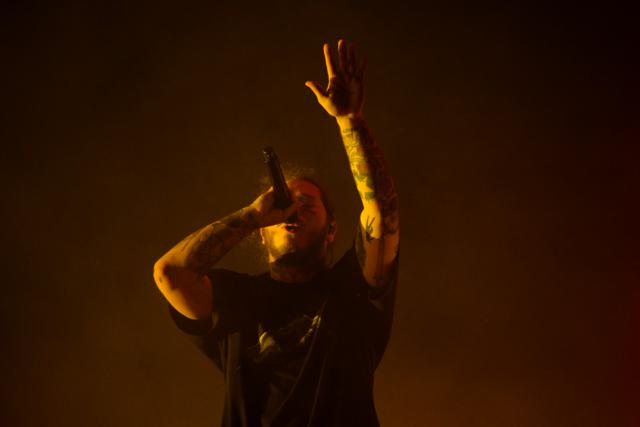 Friday night, St. Louis welcomed several different hip-hop artists to the Hollywood Casino Amphitheatre for the 2018 Hot 104.1 Super Jam. Artists included Remy Ma, DJ Luke Nasty, Derez Deshon, SOB X RBE, H.E.R., 21 Savage, and Post Malone. The gates opened at 4:00 p.m.and the sea of fans were already starting to swallow the grounds of the amphitheater. The opening acts, Remy Ma, DJ Luke Nasty, Derez Deshon, and H.E.R, warmed fans up for their long awaited viewing of Post Malone and 21 Savage, who collaborated together to form the top radio hit, "Rockstar."
Tickets to the show were sold out, so the venue was completely packed. Concert-goers were fairly calm for the first couple hours of Super Jam, and then came 21 Savage. Savage sang top hit songs such as "Bank Account," "X," and his featured verse in Cardi B's "Bartier Cardi." Savage's performance was highly anticipated by fans, and they were especially focused in watching him perform "Rockstar" with Post Malone. Savage closed his performance with "Bank Account," and on came Post Malone.
The energy in the entire venue switched as soon as Post Malone took the stage. Screams were piercing, phones were out to film, and dancing could be seen all around the sea of fans. Malone started off the concert with "Too Young," one of his more popular songs on his debut album "Stoney." Malone knows how to get the crowd fired up; fans were on their feet throwing their hands around to the music through the entire duration of his performance. Malone's humbleness and humor made an appearance on stage as well. Between the hot weather outside and the bright stage lights, Malone made it known to the crowd just how uncomfortable he actually was in the heat. Fans could count on him to explicitly yell how incredibly hot it was, and it sure made the crowd have a good laugh. Malone was, of course, having a few beers on stage and lighting up a cigarette. To add to the humor, when Malone started performing the heartfelt song "Feeling Whitney" on his acoustic guitar, he wedged his cigarette in between the strings at the head of his guitar.
Aside from the humor Post Malone flaunted during the show, he gave fans a taste of his humbleness by making an effort to thank the crowd after every single song. It wasn't one of those repetitive thank you's either– fans could hear the sincerity in his voice each and every time.
Malone performed other top hit songs such as "No Option," "Paranoid,"  "Fall Apart" and "Candy Paint." Malone included a mixture of both the albums "Stoney" and "Beerbongs and Bentleys" within his setlist. Fans were disappointed when 21 Savage did not come out to sing his featured verse in "rockstar". Nevertheless,  Malone made the verse his own and the crowd loved every second of it. He finished off the song by smashing an acoustic guitar on the stage floor, letting his inner "Rockstar" take over.
To end his performance, Malone talked to the crowd about how his career first started. He mentioned his mixtapes in school and how some friends supported him while others laughed at him. Now, Malone is one of the most popular hip-hop artists out there and has sold out many venues on his tour. He finished his story by encouraging fans to follow their dreams no matter what people say or think, and ended the concert with one of his top hits "Congratulations."
Malone's tour with 21 Savage in the U.S. is set to end in San Francisco, California, on July 24th. He will then move on to London, Barcelona, and more.
Photos by Brendon Klohr