Concert Review/Photos: Pentatonix at Hollywood Casino Amphitheater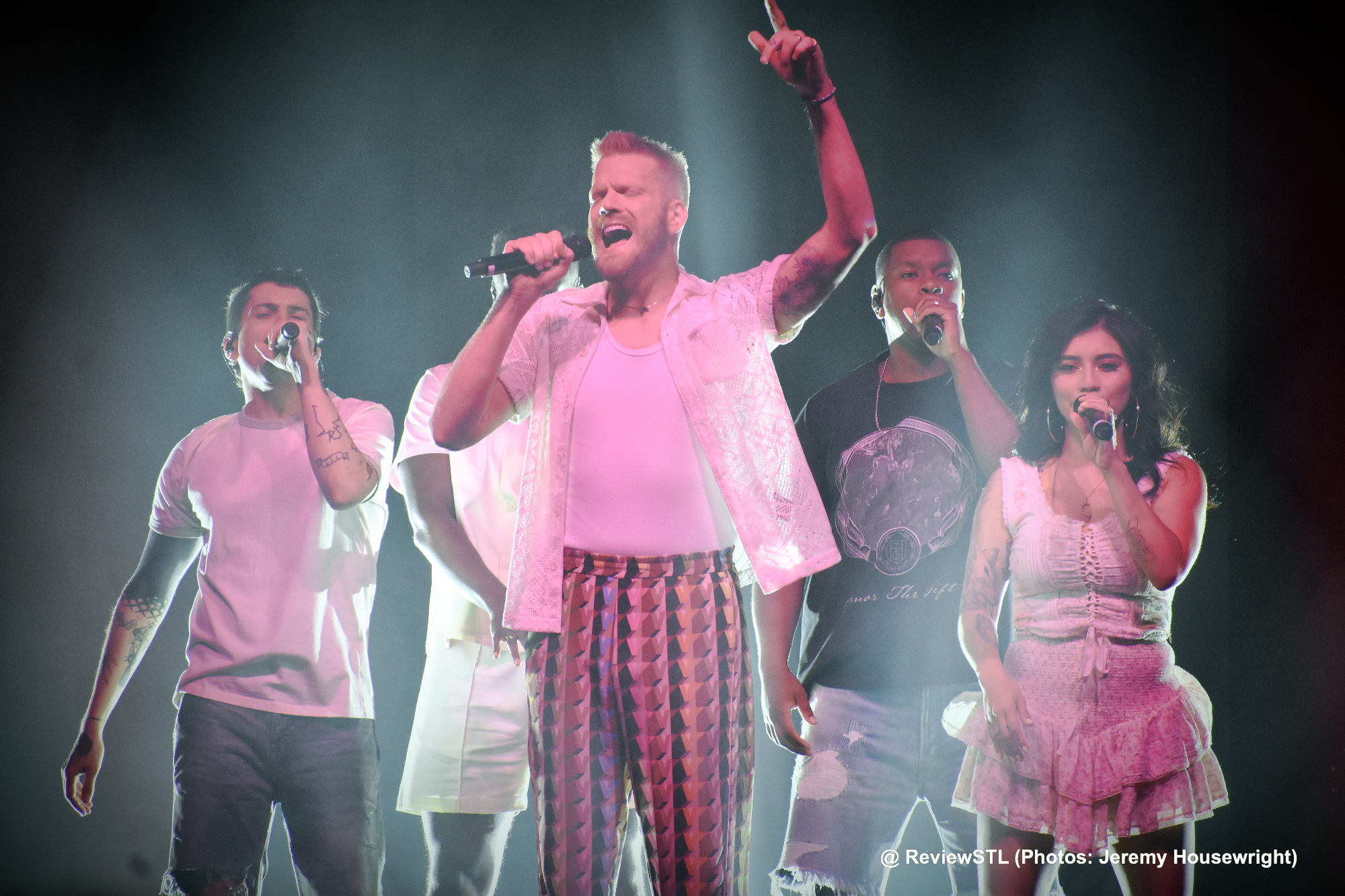 Global sensation Pentatonix turned Hollywood Casino Ampitheater into real-life Pitch Perfect
film Monday night, as the acapella group performed to a crowd of thousands as a stop on their current
national tour. The group, who won the Sing-Off during its third season in 2011, have been touring ever
since. It isn't the groups' lack of instruments that sets them apart from other musical acts such as
acapella has been around for quite some time, but their harmonies and elegant-yet-precise melody
compilations is what took fans, the Sing-Off competition, as well as YouTube, by storm. Their setlist
comprised of a solid mix of original songs as well as covers, which the group has been eloquently known
for.
Their stage presence from the moment the show started was incredible, and each member had
such an exuberant amount of showmanship, it is near impossible to not enjoy their performances. The
show started with an explosive cover of Imagine Dragon's "Radioactive." Following this were several
original songs, but what was quite a pleasant surprise was a medley that mashed up the greatest hits
from their original album "The Lucky Ones" that was released in 2021. The group has curated many
different medleys that mash-up songs, but this was different from their chart-topping covers as it grazed
over the PTX album's top hits and choruses, sampling and celebrating the album for an eager audience.
The amount the group, including frontman Scott Hoying, interacted with the audience was more
than I anticipated, having seen the group several years ago on their first ever tour. The group brought
out opening act, American Idol runner-up Lauren Alaina, for a rendition of Dolly Parton's "Jolene," which
was prefaced with a funny story involving Hoying's new husband and a comedic brush up with Alaina at
a previous engagement. Perhaps one of the most memorable moments from the show is when Hoying,
who declared himself a TikTok addict (saying, "It's a culture.) decided to make a viral vid with the
audience. Explaining the algorithm was giving him Adele vibes all day, he split the audience into four
groups creating a harmony of fans singing Adele's "Easy on Me." While the video isn't currently up on
their page, it should be within the next few days, as making TikToks with audience members seems to
be a new tradition whilst on tour.
It was quite interesting to hear how beatboxer Kevin Olusula joined the group. Hoying and
Olusula took the stage to tell the story – how just weeks before their audition for the Sing-Off, the group
reached out to Olusula who had recently gone viral for beatboxing while playing the cello on YouTube,
known as "Celloboxing." However, he was unavailable because he was finishing Med school! However,
he completed his finals and flew across the country to audition for the show with total strangers and has
been performing with the group ever since. Olusula, lover of classical music, performed his own set of
Celloboxing, and performed what is now referred to as "Kevin's Fifth." What sets this performance aside
from every other time he has performed the song is that he was joined by fellow group member Matt
Sallee, who shredded on the drums. The duo was captivating together, and then performed several
mash-ups of popular songs to invite the crowd to participate in a sing-along as Olusula laid down the
beat and Sallee belted out the vocals.
The group was joined back on stage by their remaining trio of members who came back
together for an amazing finish to their show, with a dance party to their 90's Dance Medley and their
cover of Leonard Cohen's "Hallelujah." The group then took the stage for their Encore, which consisted of one of the group's personal favorite songs, "My Heart With You," originally performed by The
Rescues, that saw the five singers surround a small lightbulb and sing a quiet and reserved rendition of
the number without microphones (I think this was more for them than the audience, but fans in the first
few rows had to have had chills.) Finally, Pentatonix ended with a cover of Queen's "Bohemian
Rhapsody." The group, who sound incredible, couldn't have better chemistry – with both one another
and their relationship with their fans. It was so electric watching how both the group and the audience
fed off of each other, creating an incredible experience. (Shout out the kids dressed up as Sushi Rolls
paying homage to when the group performed as a giant Sushi Roll on NBC's "The Masked Singer.") The
group will finish up with this tour, but then they hit the road again for a Christmas tour, titled
"Pentatonix: The Most Wonderful Tour of the Year." If you get the chance, absolutely see them, no
matter when or where or how, as they put on a show I don't think anybody would not enjoy.