Concert Review: Breaking Benjamin and Five Finger Death Punch at Hollywood Casino Amphitheatre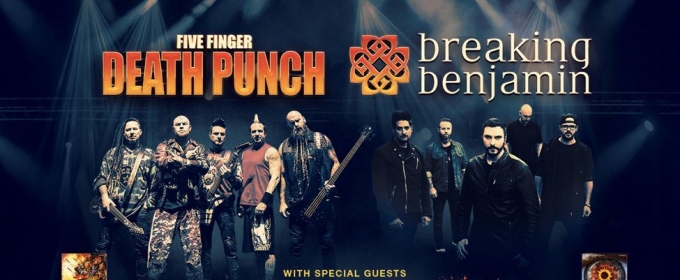 Last night at Hollywood Casino Amphitheater, Breaking Benjamin and Five Finger Death Punch took the stage to grant their loyal Saint Louis fans a night filled with heavy rock bangers and drunken fun.
Bad Wolves and Nothing More kicked off the night as the opening acts, and Five Finger Death Punch didn't take the stage until around eight o'clock. The venue was jam packed; over 15,000 Saint Louis fans came out to enjoy this crazy, heavy, adrenaline-pumping rock concert.
Five Finger Death Punch put on a performance containing extreme intensity, but also a bit of tenderness. To start, the band performed some of their top hit songs such as "Trouble," "Jekyl and Hyde," and "Wash It All Away." Lead singer Ivan L. Moody caused a bit of a stir with the amphitheater about the spotlight's usage during the show. Moody insulted the spotlight director, and that either left a poor taste in fans' mouths, or they thought it was humorous. This diva-like attitude was exposed multiple times throughout the show, and it often made the show a little less enjoyable. However, when performing "Remember Everything," a bit more of an emotional song, the much kinder hearted side of the band shined bright as they called up younger fans in the crowd to stand with them on stage. There were a few kids onstage who had to have been no older than ten years-old, and the way in which Moody and the rest of the band talked with and treated the young rascals touched the hearts of the entire crowd.
The band is also known for being dedicated in appreciating and recognizing our U.S. veterans, which also made up for the band's bad attitude earlier in the show. All veterans who attended the show were recognized for their service, and "Bad Company" was performed in their honor. To finish off their set, Five Finger Death Punch gave away a classic baseball bat and a few chains on their necks to selected fans in the crowd, and closed with their songs "Burn MF," "Gone Away," and "The Bleeding." Overall, despite the poor attitude from Moody in the beginning of the show, the band put on a great show and managed to keep everyone on their feet through nearly their whole set.
Breaking Benjamin, the performance everyone was waiting for, hit the stage at around 9:45 p.m., and didn't wrap things up until eleven o'clock. Breaking Benjamin has been loved by many rock and metal fans for over a decade, especially in Saint Louis. Saint Louis has always supported the band and has definitely been key to their success, and the band was sure to let Saint Louis know and understand the impact the city has had on their lives.
The band opened their show with newest song "Red Cold River" off their new album "Ember," and immediately led into one of their older yet well-loved songs "I Will Not Bow." An amazing start to the night, but what was to follow was a bit of another story. The band did some covers of classic songs such as "Schism" and "Smells Like Teen Spirit," and everyone loves a good cover. Now, the band absolutely killed these songs, but it was dragged out. It would have been better if the band had a bit more stage presence, and kept the covers short and sweet. After awhile, fans were ready to hear more Breaking Benjamin songs, but it felt like they had to wait much longer than they should have for the band to jump back into what everyone came for–Breaking Benjamin's music.
Breaking Benjamin continued on to play some of their top hits, including "Breath," "Angels Fall," and of course, "So Cold." While those were excellent song choices to include in the setlist, there were a couple songs that simply did not belong. "Sooner or Later" and "Believe," both very enjoyable songs, were performed, but it didn't keep the crowd on their feet because they aren't as well known as their other songs. If the band wanted to switch things up, it would have been better to go for some of their more emotionally connective songs like "Dear Agony" or "Give Me a Sign." These songs are far more popular and could have at least allowed the crowd to feel some spiritual connections with their fellow Breaking Benjamin lovers, and with the band itself. Connecting with the fans seemed to be difficult for the band to accomplish, and an intimate connection with fans is absolutely essential in putting on an entertaining and memorable performance.
Toward the end of their setlist, Breaking Benjamin performed their newer song "Torn in Two," and gave credit to Saint Louis for the song's rising success. Though it is an excellent tune, fans didn't seem to enjoy it as much as expected. All across the theater were fans who were either standing still or sitting down, and it's never a good thing when a large majority of these crazy, enthusiastic metal heads are standing still instead of banging their heads to a song. Nevertheless, "Diary of Jane" was the closing song and seemed to save the crowd from potentially losing the energy they had when the show first started.
Even though Breaking Benjamin has excellent music and painfully beautiful lyrics, their performances aren't quite up to par. This band could do so much more with their performances, and if they just added a bit more intimacy and stage presence into their shows, fans would be on their feet the entire show. Their performances are entertaining, but not to the best of their ability.
Breaking Benjamin is still a must-see show, simply because they've been around forever and have a special place in Saint Louis.
Look for the photo gallery from the show on reviewstl.com later today.