Concert Review and Photos: Dirty Heads and Yelawolf at Grinders KC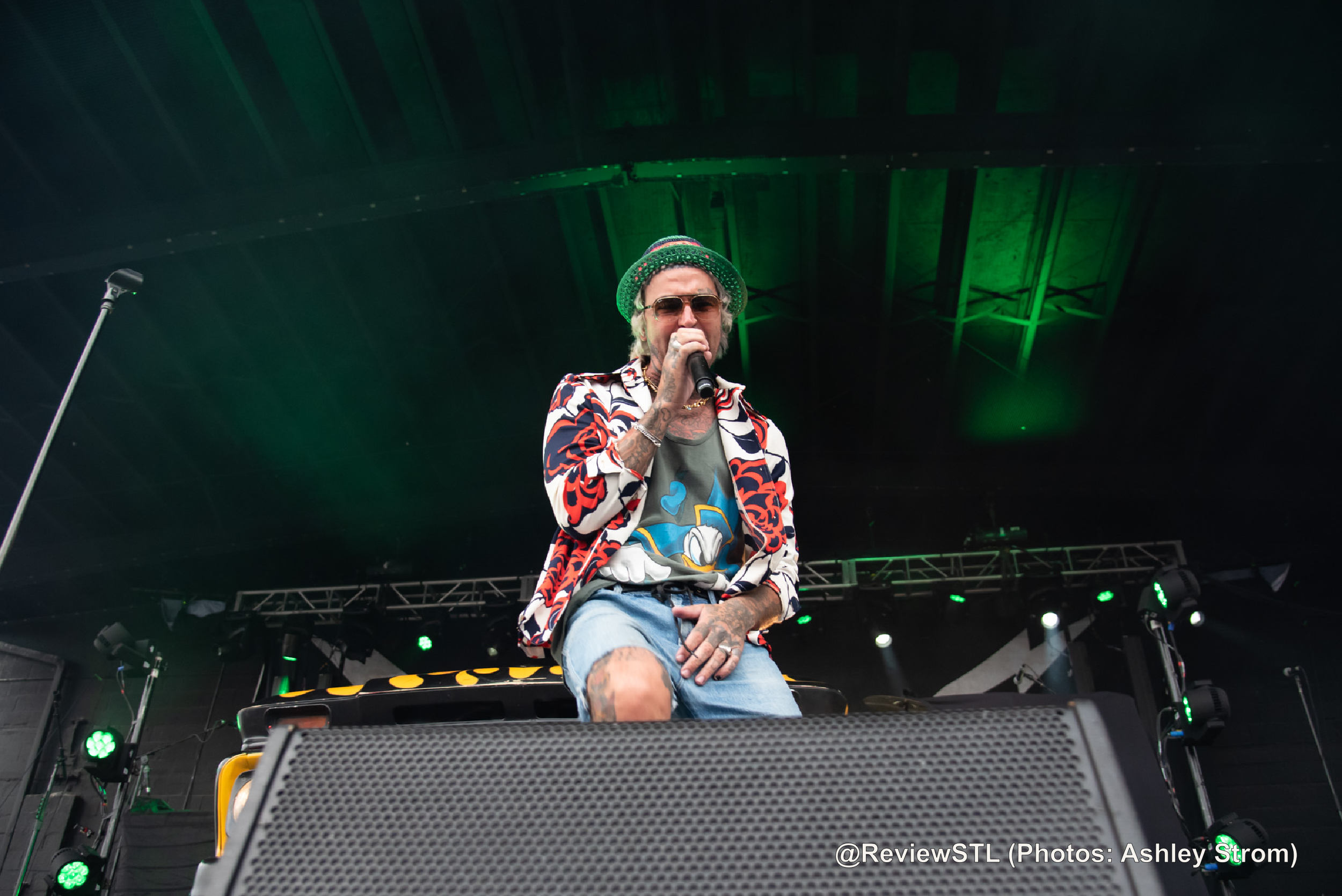 Review and Photos By Ashley Strom
It was the perfect summer evening for a gathering of reggae enthusiasts at Grinders KC for Dirty Head's, sold out, Island Glow tour. Concertgoers arrived early and fully prepared to indulge in all the libations that this venue offers. From pizza, ample beer stations, legal and open cannabis consumption, paired with fun merch, it's a little oasis hidden in the heart of KC. 
Tropidelic opened up the show right at 6 when the sun was at its hottest. But the band kept it cool with their variety of tempos and instruments. Hailing from Ohio, you'd swear they were from Cali with their breezy mix of horns, drums and bass. They may have been first to perform, but they are not rookies. With 7 released albums in 11 years, they've performed alongside other indie greats such as Prof, Matisyahu, Devin the Dude, Shwayze and even Bone Thugs N' Harmony. The crowd was ready, they sang and danced throughout the whole set. But the libations and excitement got to a few and medics were called in after the first song.
Next up was G Love & Special Sauce. They brought the blues to the stage but kept it upbeat with guitar and harmonica solos. This band of 3 filled the stage with beloved songs of soul with a hip hop vibe that any concertgoer can appreciate. Having been together since 1993, they can play just about anything, but prefer to keep it old school with the instruments. You don't see too many large string basses on stage these days at hip hop centric shows, especially ones that are taller than the musician. But they let their talent shine as the summer heat wore down.
Joining the tour for a few stops was the southern rapper from Alabama, Yelawolf. He may have not had a live band, but he made full use of the stage with his explosive energy and DJ Klever's unrivaled turntable skills from the back of a Chevy. He performed fan favorites such as "Catfish Billy," "Till It's Gone," "Pop The Trunk" and "Daddy's Lambo." The crowd may have been sporting Dirty Heads T-shirts and searching for their second wind, but they tried their best to give Yelawolf the energy and love back. After a brief rain shower and monologue from Yelawolf, he closed out his set with "You and Me" and by gave away his Donald Duck tank.
When day turned to night, the Dirty Heads took to the stage with their full band, delivering fans the soothing reggae yet punchy hip hop songs they've been craving all day. They opened up with "Heavy Water," that has nearly 4 million plays on Spotify. Even though the lights and stage jumps were at a minimum, the crowd loved every moment and sang along to every song. Everyone in attendance was locked in and focused. This was definitely a performance where you wouldn't want to have to go to the bathroom during, as it would be quite the trek through the crowd. Packed to the entrances, fans swayed along to Dirty Heads' most beloved songs such as "Oxygen," "El Dorado," "Sloth's Revenge," "Medusa," "That's all I Need," "Bum Bum" and their latest, "Island Glow." It was a solid 90 minutes of uninterrupted entertainment for all ages, filled with devoted, seasoned fans and an occasional bouncing beach ball.
It was a solid show start to finish and easy to understand why it sold out in a hurry with minimal advertising. I can't recommend enough to come out to Grinders KC in the Crossroads district and enjoy a summer concert.