Conan O'Brien Puts Late Show on Craigslist, Jay Leno and David Letterman Poke Fun at the Situation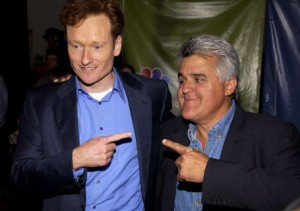 Lately there has been a lot of news about the Conan O'Brien / Jay Leno situation. And rightfully so – everyone has their opinion, and their favorite late night talk show host, and the war is waging. But in my opinion, looking at it from an unbiased standpoint, I can easily see how both Conan and Jay would be upset.
Both Conan O'Brien and Jay Leno have been a part of one of the most famous shows in television, and both are upset about losing the chance to be a part of it. It is completely understandable for them to go down fighting. On one side, Jay was the host of a successful show that was getting ratings – and all the while he was getting paid (well) for doing something that he loves. On the other, Conan O'Brien has been paying his dues, climbing the ranks, and becoming quite popular amongst the late night crowd. He was promised the same show – and the network wants to virtually take that away from him. Even though he would have the show still, it would be pushed back behind Jay – changing it's historic time slot and run-time. It just wouldn't be the same.
Watch Conan talk about putting the show on Cragslist, Leno poke fun at
himself, and David Letterman taking advantage of the whole thing
In an effort to further boost his popularity and ratings, none the less, Conan placed an ad on Craigslist, that stated "4 SALE: BARELY-USED LATE NIGHT TALK SHOW – MAKE ME AN OFFER!!! (UNIVERSAL STUDIOS)." This is another reason why I think that Conan is a brilliant comedian, and someone who really thinks outside the box when it comes to connecting with a younger and more modern audience. And this also shows that Conan knows how to get ratings – as all of this press they are getting is consequently boosting their ratings. The Craigslist ad reads:
" 4 SALE: BARELY-USED LATE NIGHT TALK SHOW – MAKE ME AN OFFER!!! (Universal Studios)
Date: 2010-01-13, 3:48PM PST
This is a chance of a lifetime to own your very own late night talk show—guaranteed to last for up to seven months!! Really must see to appreciate.
Information for potential buyers:
– Measures 100′ x 100′ x 32′ — plenty of room for a futon!
– Designed for 11:35 but can be easily moved
– Band can be sold separately
– Buyer must honor Barry Manilow booking next Thursday
MAKE ME YOUR BEST OFFER!!!!!! (Also willing to trade for Coldplay tickets.) "
All in all, it wouldn't surprise me if the whole thing was a publicity stunt to boost ratings. I'm not saying that there is no chance Leno will move back to his old time slot, and that Conan will leave. It is very possible – but nothing is written in stone. And there are no official reports at this time that any changes are happening. So we will just have to wait and see.
What do you think will happen? Who is your favorite: Conan, or Jay? Leave a comment below.