Comic Review: The Adventures of Superman #1 with Stories by Jeff Parker, Chris Samnee, Jeff Lemire, Justin Jordan, Riley Rossmo
The final story is titled "Bizarro's Worst Day" and it's written by Justin Jordan with art by Riley Rossmo.  In this story, Superman has to deal with Bizzaro (Superman's imperfect clone).  In the story, Bizarro is destroying (or helping in Bizarro world) Metropolis.  Superman has to trick Bizarro into helping NASA get a perfect map of Mars.  There wasn't any really stand out about the story, but it was enjoyable none the less.
What did stand out to me was Justin Jordan's writing.  There was one scene in particular that was great.  Superman fans a little boy from a water tower being knocked over.  As Superman scoops the boy up, he says: "Hold your ears, this is going to be a little loud."  It's something so simple that never crossed my mind.  Of course it would be deafening to be flying at that kind of speed.  The fact that no writer has ever thought of that is astounding.  I'd really like to see what else Jordan can bring to a Superman story. I think he gets the idea of the character. He is currently writing Superboy and he is also wrapping up The Legend of Luther Strode with artist Tradd Moore.  Do yourself a favor and go grab The Strange Talent of Luther Strode from Image Comics.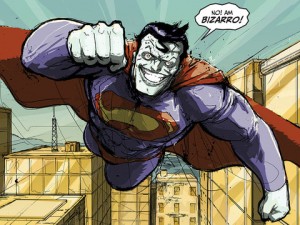 The art on the story wasn't my favorite.  It was a departure from Rossmo's previous work on Green Wake. His work on Superman was brighter and more colorful.  There was a little hint of Calvin & Hobbes mixed with superhero action.  His style may not have been right for just a random story, but since they used Bizarro, his art style made sense. I wouldn't mind seeing some more Bizarro stories with Rossmo's art.
I can't wait to see some of the upcoming issues and the talent that is working on the title.  With creators like Sal Buscema, Giuseppe Camuncoli, J.M. DeMatteis, Joshua Hale Fialkov, Joelle Jones, Bryan Glass, Michael Avon Oeming, Matt Kindt, and Stephen Segovia, this title is shaping up to be something great.  I hope DC Digital keeps up the great work and bringing in these comic legends to work on The Man of Steel.