Comedy Review: Whitney Cummings at Helium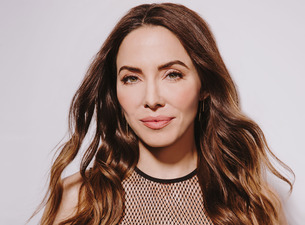 Whitney Cummings is out to conquer the world. In addition to hosting specials for Comedy Central and Showtime, she has created some of the decade's most memorable television with her own series Whitney, as well as the Emmy nominated
2 Broke Girls and the recent revival of Roseanne, which she helped write and produce. If that were not enough she has also penned her memoir I'm Fine and Other Lies, where she applied her wit to open up about her anxiety issues and co-dependency disorder. In 2017 she wrote and directed her first film, The Female Brain.
A veteran of the stand up circuit since 2004, Cummings returns to town this weekend with an hour long set of hilariously candid humor that covers a wind swathe of relevant topics including the MeToo movement, self-defense, her passion for saving stray dogs, office etiquette, Marilyn Monroe, Hedy Lamarr and the roles of entitlement and empowerment before culminating in a frank conversation about the future of sex robots.
As she noted on stage, Cummings' return to St. Louis, (she was at The Pageant in 2017) affords her to road test new material for an upcoming special within the confines of smaller clubs.
Energetic, casual and confidant, the writer, director and producer was on firm footing with her new material, deploying a 'don't mess with me congeniality' to tell stories that are unabashingly honest and uncompromising in attitude.
Unwavering in speaking her mind, she makes it all seem so effortless as she connects with the audience, boiling down the contemporary issues of our time into mirthful morsels that use comedy as a blunt object against lunacy. Smiling as she suffers fools lightly, her set harnesses her superpowers of sarcasm and satire.
With so much success in so many arenas it would be easy for Whitney Cummings to just go through the motions. Instead her new comedy tour finds her embracing the unnerving with a brashness and raunchiness that ishilariously ironic, relevant and raucous.
Whitney Cummings is performing two shows nightly (Friday and Saturday, October 26-27) live at Helium (1151 St Louis Galleria Street).
Showtimes and ticket info at (314) 727-1260 or online at https://st-louis.heliumcomedy.com