Cirque du Soleil: Alegria Comes to St. Louis – Review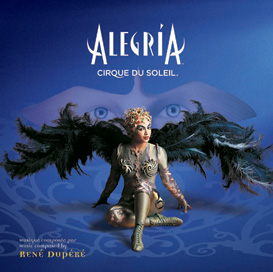 From the moment you step thru the auditorium doors and take your seat, you are awash in a fantasy world…as you sit and relax, most likely from a long day at work; you listen to the pleasant sounds of birds and watch the sunlight play across the stage.   And the show begins, with these creatures moving amongst the crowd…Alegria…Cirque du Soleil.  Alegria is the Spanish word for jubilation and the show revolves around the joy and jubilation of youth and how it feels to see that youth around us.
Even the beautiful name evokes a fantasy land.  This marks the 25th year that Cirque has brought the very essence of music plus costuming and pure amazingly beautiful artisans to the world to see.  I have been a fan for many years, but have never had a chance to see a live show.  And believe me; it was worth every breathtaking moment!  From the time the White Singer starts her swan song, thru the final act, I was completely entranced.
The people who form this show are all so gifted; from the lovely contortionists to the amazing flying man…from the ridiculousness of the clowns to the serenity of the balancing body sculptionist…I cannot even find the right word to describe him!  Then the fire dancers awaken you, only to let you be amazed again by the high trapeze display!   You are driven by the acts and mesmerized by the beauty…and then the music just completes the entire experience!  Make the time to catch one of the showings…it is so worth the visual and sensory overload you are going to have!
---
Cirque du Soleil: Alegria will be at the Chaifetz Arena from MAY 05 TO MAY 09, 2010. For more information about the show, visit cirquedusoleil.com!