CHERNOBYL DIARIES Opens MAY 25th! Enter to Win a Pair of Passes to See The Movie!
Enter to win a pass good for two!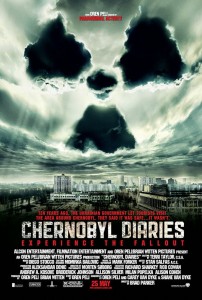 Chernobyl Diaries is an original story from Oren Peli, who first terrified audiences with his groundbreaking thriller Paranormal Activity. The film follows a group of six young tourists who, looking to go off the beaten path, hire an "extreme tour guide." Ignoring warnings, he takes them into the city of Pripyat, the former home to the workers of the Chernobyl nuclear reactor, but a deserted town since the disaster more than 25 years ago. After a brief exploration of the abandoned city, however, the group soon finds themselves stranded, only to discover that they are not alone…
Writers: Oren Peli, Carey Van Dyke, Shane Van Dyke
Director: Brad Parker
In order to enter the contest, become a fan of ReviewSTL on Facebook and share ReviewSTL.com with all your friends (click the "share" link on the bottom-left side of the page) – and tell us why you want to see the movie under the contest post! Then "like" the post to complete your entry. NO PURCHASE NECESSARY. While supplies last. Passes are available on a first-come, first-served basis.
Winners will be chosen at random from all entries. Supplies are limited. Limit one (1) pass per person, passes admit (2) two. Sponsor's employees and their dependants are ineligible. No purchase necessary.
Winners will receive a pass valid for the run of engagement, good for two seats.
Good luck! We hope to see you at the movies!
CHERNOBYL DIARIES OPENS MAY 25