Cemetery Junction (Now out on Blu-ray/DVD)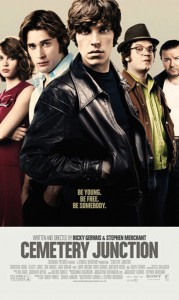 The first feature film from the brilliant British duo Stephen Merchant and Ricky Gervais is a bit more of a dramatic affair but still serves as an excellent, if a tad conventional, portrait of an era with their excellent blend of humor, sadness, and reality.
The film follows three friends form a rundown section of England known as Cemetery Junction in the early 70's.  A blue collar town full of generations of families that never left, sons and daughters following in their parents foot steps; living a nice, quaint and humble existence.  When one of the friends, Freddie, tries to move up and out in the world the trio embarks on a series of life lessons and local culture that may or may not lead them out of the Junction.
If the plot sounds a bit familiar/ been there, done that, you wouldn't be terribly far off in that assessment.  I wish Gervais and Merchant would have branched out into something a bit more original with the films conclusions but the trip is still more than worth it. The quality of the filmmaking and storytelling is as sharp as ever from the writers and the film moves right along clocking in at a crisp 90 minutes.  It will make your heart sink and sing between the fine/dark humor found throughout the picture while you fall for these characters.  This is Gervais and Merchant's most grounded effort to date and while I am not as big a fan of this as their TV products it is still a quality film with a lot to offer.  It doesn't have that layer of farce that their previous efforts blended brilliantly into their narrative but is full of just as much heart and soul in their characters.
And that is why this film worked for me, the characters are easy to identify with and you feel like you have known someone like them along your own journey through life.  There are no bad guys or evil people in the film and the conflicts in the film play out fairly naturally as characters are always believable in their actions.  Sure there are some guys you can't really get behind but their actions are a reflection of the times as much as they are a guy just being a bit of a jerk.  As much as the characters work the setting does just as well and the era is wonderfully captured on film here.
The film's young leads are easy to get behind and that all starts with Christian Cooke as Freddie.  Cooke is confident in this films lead and is incredibly likable and relatable it is just a joy to watch him work.  Everything he does is genuine and he works wonderfully playing off everyone around him just right.  Tom Hughes is also very good, if a bit one note, as the second lead, Bruce.  Bruce is a hot head and forever stuck in Cemetery Junction; though he says he is always getting ready to leave.  A tragic character of sorts but Hughes gives him the right balance of swagger with vulnerability.  Ralph Fiennes is very humorous in his darkly funny moments and has that perfect amount of smug that we don't really like him, but can't really loath him either.  Matthew Goode is excellent as always as Fiennes' right hand man and he too perfectly walks the fine line that you can't really hate or like; his charms are wonderful to watch in his "pitch" scene.  Lastly, Felicity Jones is irresistible as Julie and you can see why Freddie is so smitten over her.  Jones' smile and aura she projects are just so easy to fall for you will find it impossible not to care for her.
In the end, Cemetery Junction is a fine effort from Gervais and Merchant and a welcome change of pace.  Go in expecting the tone of The Office and Extras and you will be caught off guard for sure but if you settle into the world (which isn't that hard to do) you will find a nice little story to enjoy.  I wish things weren't quite as familiar and conventional in the end but these two like an upbeat ending for however cynical they can be. It doesn't spoil the film by any means I was just curious to how this would play had they been a bit more "real."  Oh well, still comes as an easy recommendation.
Cemetery Junction is a B