Celebrate the Lunar Eclipse at "Twilight Night" in St. Louis at Union Station!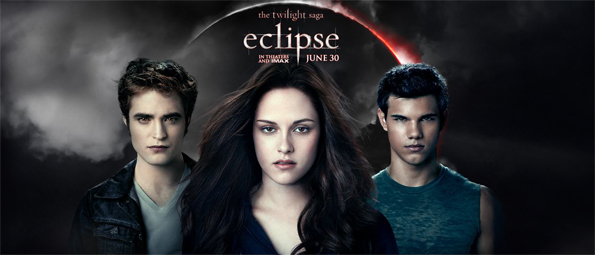 THE TWILIGHT SAGA: ECLIPSE opens nationwide next Wednesday, June 30th.
In honor of the lunar eclipse that will take place this Saturday, June 26, Summit Entertainment will be holding a special event called "Twilight Night" at Union Station. This special occasion is free to the public, and will include an outdoor screening of TWILIGHT: NEW MOON.
Doors open at 6pm for the event, and the screening starts at 9pm. Before the movie, Twilight fans can participate in many fun events including: make-up booth, tarot card readings, Henna tattoos, and live music that was inspired by the Twilight Saga.
ReviewSTL is giving 2 lucky winners the chance to win a VIP meet and greet at "Twilight Night" this Saturday! Each of the lucky winners will be able to bring one guest, and meet a cast member from the new movie!
In order to enter the contest, become a fan of ReviewSTL on Facebook and tell us why you are a HUGE fan of the "Twilight" series – and why you should win a VIP meet and greet. NO PURCHASE NECESSARY. PLEASE REMEMBER TO READ THE RULES!
For more information about "Twilight Night," visit insidemovies.moviefone.com.
[hdplay id=27 width=595 height=375]
About THE TWILIGHT SAGA: ECLIPSE: Bella (Stewart) once again finds herself surrounded by danger as Seattle is ravaged by a string of mysterious killings and a malicious vampire continues her quest for revenge. In the midst of it all, she is forced to choose between Edward (Pattinson) and Jacob (Lautner) — knowing that her decision has the potential to ignite the ageless struggle between vampire and werewolf. With her graduation quickly approaching, Bella is confronted with the most important decision of her life.
---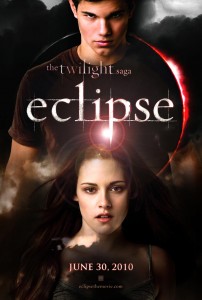 About the TWILIGHT SAGA film series
The TWILIGHT SAGA film series stars Kristen Stewart and Robert Pattinson and tells the story of 17-year-old Bella Swan who moves to the small town of Forks, Washington to live with her father, and becomes drawn to Edward Cullen, a pale, mysterious classmate who seems determined to push her away. But neither can deny the attraction that pulls them together…even when Edward confides that he and his family are vampires. The action-packed, modern day vampire love story TWILIGHT, the first film in the series, was released in theatres on November 21, 2008 to a blockbuster reception. The second installment of the film franchise, THE TWILIGHT SAGA: NEW MOON was released November 20, 2009. The franchise has grossed over $1.1 billion in worldwide box office ticket sales to date.