CBS 2010 Fall Premiere Dates; Featuring The Big Bang Theory, How I Met Your Mother and More!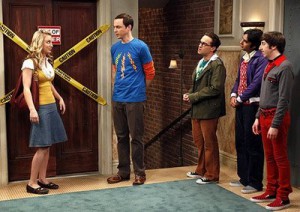 CBS's fall season kicks off with the 21st season of Survivor, this time set in the jungles of Nicaragua. It is hard to believe that the show has already filmed 20 seasons, and I have never watched a single one. (Guess my I should revoke my TV critic card.)
As for the rest of CBS's schedule I'll be diving into it in more detail closer to premiere dates. I am looking forward to the premieres of both How I Met Your Mother (which needs to have Ted finally meet the mother this season) and The Big Bang Theory.
Which premiere are you looking forward to most? Let us know in the comments!
Wednesday, Sept. 15
8:00-9:00 PM              SURVIVOR: NICARAGUA (21st Edition Premiere)

Monday, Sept. 20
8:00-8:30 PM              HOW I MET YOUR MOTHER (6th Season Premiere)
8:30-9:00 PM              RULES OF ENGAGEMENT (5th Season Premiere)
9:00-9:30 PM              TWO AND A HALF MEN (8th Season Premiere)
9:30-10:00 PM            MIKE & MOLLY (Series Debut)
10:00-11:00 PM          HAWAII FIVE-0 (Series Debut)
Tuesday, Sept. 21
8:00-9:00 PM              NCIS (8th Season Premiere)
9:00-11:00 PM            NCIS: LOS ANGELES (2nd Season Premiere)
Wednesday, Sept. 22
9:00-10:00 PM            CRIMINAL MINDS (6th Season Premiere)
10:00-11:00 PM          THE DEFENDERS (Series Debut)
Thursday, Sept. 23
8:00-8:30 PM              THE BIG BANG THEORY (4th Season Premiere)
8:30-9:00 PM              $#*! MY DAD SAYS (Series Debut)
9:00-10:00 PM            CSI:  CRIME SCENE INVESTIGATION (11th Season Premiere)
10:00-11:00 PM          THE MENTALIST (3rd Season Premiere
Friday, Sept. 24
8:00-9:00 PM              MEDIUM (2nd Season Premiere on CBS
9:00-10:00 PM            CSI: NY (7th Season Premiere)
10:00-11:00 PM          BLUE BLOODS (Series Debut)
Saturday, Sept. 25
8:00-9:00 PM              CRIMETIME SATURDAY
9:00-10:00 PM            CRIMETIME SATURDAY
10:00-11:00 PM          48 HOURS MYSTERY (Season Premiere)
Sunday, Sept. 26
7:30-8:30 PM              60 MINUTES (43rd Season Premiere)
8:30-10:00 PM            THE AMAZING RACE (17th Edition Premiere)
10:00-11:00 PM          UNDERCOVER BOSS (2nd Season Premiere)
Tuesday, Sept. 28
10:00-11:00 PM          THE GOOD WIFE (2nd Season Premiere)
Sunday, Oct. 3
8:00-9:00 PM              THE AMAZING RACE (Time Period Premiere)
9:00-10:00 PM            UNDERCOVER BOSS (Time Period Premiere)
10:00-11:00 PM          CSI: MIAMI (9th Season Premiere)