Cavo's Casey Walker Talks Writing Music, Recent Album and More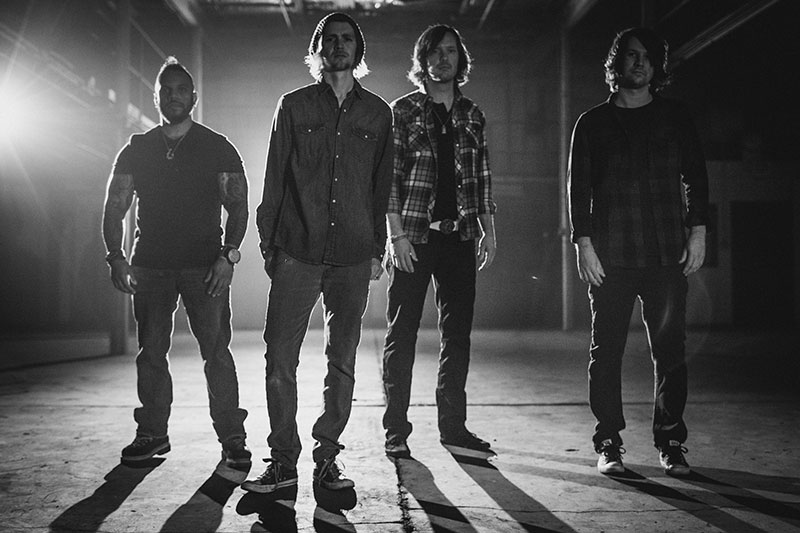 Since the 2002 release of the EP, A Space to Fill, Cavo has been a St. Louis staple. The EP spawned two singles. "Say Again" was picked up by local radio stations along with the song "Unsung."
Cavo followed up the EP with their self-released full length album, The Painful Art of Letting Go in 2006.
In 2008, the band's single, "Champagne" was put into rotation with 105.7 KPNT. The success of the song earned the band an opening slot for Stone Temple Pilots. The band also signed with Warner/Reprise.
Cavo's first major label album, Bright Nights Dark Days, was released in 2009. "Champagne" was re-released, hitting No. 1 on the Billboard Mainstream Rock Charts. The single "Crash" hit No. 6 on the Hot Mainstream Rock Tracks. The third single off the album, "Let it Go," was featured on the soundtrack to Transformers: Revenge of the Fallen.
Cavo has toured with Chevelle, Halestorm, Shinedown, Sick Puppies, Lifehouse, and Daughtry, just to name a few.
In 2012, the band released Thick as Thieves. Four years later, the band released Bridges, their third album. Cavo is now preparing to play a show at Delmar Hall on Saturday, August 5.
ReviewStl recently caught up with Cavo frontman Casey Walker, as the band preps for the show on Saturday night.

What can fans expect from the show on Saturday?
I think alot of the times when we get on stage, what we try to do is not rely heavily on light packages and all the stuff. We try to do a really emotional show. I've always liked bands like Blue October and Pearl Jam where you can see the emotion coming off the band as they are playing their music. I love just getting into the songs. I think it's a very high, energetic show. We definitely try to mix it up and put in some songs we haven't done in a while. We got some covers, some pretty surprising covers I would say. We're really excited about that.
Have you played Delmar Hall yet?
We have not. We've played The Pageant next door, but we've never played the Hall. We've wanted to really bad because it's brand new so we wanted to get a show in there. I've seen a couple of shows there. I was really impressed. I figured it be top notch.
Before releasing the album in 2016, you took about a 4 year break. Was there a reason for such a long layoff?
At first it was not planned. At first it was more of let's just go home and take some time off. We'd hit it hard for about 5 or 6 years of just touring, touring, and touring, and being gone from home. I've got kids. Me and Chris, from the band, have kids. I just missed so much of them growing up and I wanted to spend some time at home with them. It kind of ended up being longer than we expected. We started writing with our new drummer Andy. Things started to change. It was all good, but we had to start to reevaluate how we wrote songs. I think that's a huge thing of how the album sounds. I think it's the best record we've ever done, because it's so much more. It was 4 guys in the room just writing and giving it all over to the music. We had the mindset of let's write great songs. The break itself just happened because we wanted to make sure we put the best possible music. We did the pledge campaign to fund the album. We took it upon ourselves to not let the fans down. We wanted to make sure that the fans got the best Cavo album.
With the success of the last album, did the band feel any pressure in writing Bridges?
I would say no. There was more pressure in writing the second album, Thick as Thieves, because a lot of the success came from the first album. We had a certain amount of time to write it and we were signed at that time. We wanted to make sure the label was happy with it. There were so many hands in the pot, it was just hard. The pressure was kind of gone, that's why the record sounds the way it does. It was like, we just focused on ourselves and the music. It was liberating.
The new Cavo album is different sounding than past albums. Are you happy with the way fans have responded to the album?
I am! We knew at the very start that it was going to be a very polarizing album. You were either going to really love it or not care for it. I hate saying it like this, but I don't think we changed styles, I just think we evolved. We turned into the best version of Cavo. We evolved, we grew up and lived different life experiences. I couldn't be happier with this album.
When you write a song, what is the process like?
The process is always kind of evolving. Sometimes I'll come in with an idea. Sometimes Chris will come in with an idea. Sometimes Brian will come in with an idea. Sometimes we'll just be sitting around the practice space and just start messing around. The inspiration always comes from life experiences. I believe there has to honesty in art. You have to put a piece of yourself into the art. I try to write a song where 10 years from now I will still feel the moment. So far, we've been pretty lucky like that. I still feel songs that we play from Thick as Thieves. It's all about life experiences man, you have to be honest.
You mentioned having kids, has that changed the way your music sounds, or the message of your music?
Absolutely, it's funny that you mention that because I used to write when I was a kid. I used to go to my mom and she was my bouncing board. She used to tell me that I needed to write a happy song. That's how I used to write. It was always based on a moment that gave me a sense of urgency or pain. I remember when we wrote songs for the last record and my guitarist Chris looked at me and said this might be the first pop song you've ever written. That's the beauty in writing. It kind of opened my eyes and made me realize I could write a song like that.
On the new album, there are a couple songs that have a country sound to them. Do you find yourself listening to other types of music?
I always have. When I was a kid, my earliest memories of music was riding in my mom and dad's station wagon listening to George Jones and Randy Travis. Those songs really spoke to me. I always loved country and I still do. I love the fact that country focuses around a good story and a good melody. I think Cavo has been greatly influenced by that. That's one of the beautiful things about not having a label. We said that when we started writing the album. Let's just write good music. If it comes out having a hip-hop beat and sounds like that, finish the song. If the song starts off and it's got a country twang to it, finish the song. That's what happened with the song on the new album, "Take Me Home." Chris called me one night and played me this demo he worked up. It had this twangy sounding steel. It spoke to me right away. It took me back to a time in my life so I wrote the lyrics that night. I remember sitting there after it was done and listening to it and thinking that it sounded a bit country. I didn't want to touch it because I didn't want to take the purism away from it. I didn't want to make it something that it wasn't.
Has the band started talking about what's next?
We're booking more shows. We all kind of feel like it's time. We miss being on stage. We actually have some really big news to release at the August 5 show. Cavo is going to be entering a new chapter here soon and we're really excited.
Cavo will play Delmar Hall on Saturday at 8 p.m. Doors will open at 7 p.m. Tickets are $15. A portion of the proceeds will go to the St. Louis Chapter of Autism Speaks. Tickets for Cavo at Delmar Hall are still available by visiting ticketmaster.com.