Brian Michael Bendis' Popular Comic 'Powers' Might Be Coming to FX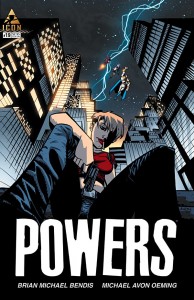 Ain't It Cool News is reporting that Journeyman creator, Kevin Falls,  is going to be sending his script for the popular comic book series by Brian Michael Bendis, Powers, to FX to be shot as a new pilot for the popular cable network.
Powers takes place in a world not to different from the worlds of DC Comics and Marvel superheroes. A world teeming with superheroes, where if you live in a major city it isn't uncommon to see a superhero fly overhead of you. The comic follows two detectives, Christian Walker and Deena Pilgrim, who work in the "Powers" department, which is a division of homicide. The two solve superpowered crime together. The comic primarily follows their lives, and backgrounds especially Christian Walker who was once a "Power" himself.
If done right Powers could easily be the thing that Heroes never was, an interesting live action take on the superhero that isn't based off of a giant property. The source material is there, and the characters seem like they could easily transition to a different medium. The biggest question is how they do a show like this on a cable budget without sacrificing the quality of the show. FX always produces great quality shows, but they aren't usually high on special effects. Powers wouldn't require a lot of special effect shots, but enough to make the show on the higher end of the budget for FX.
The idea of this show really intrigues me, and the showrunner of the under rated Journeyman being involved excites me about the project even more. Lets hope it comes to fruition.