Book Preview: St. Louis Sound: An Illustrated Timeline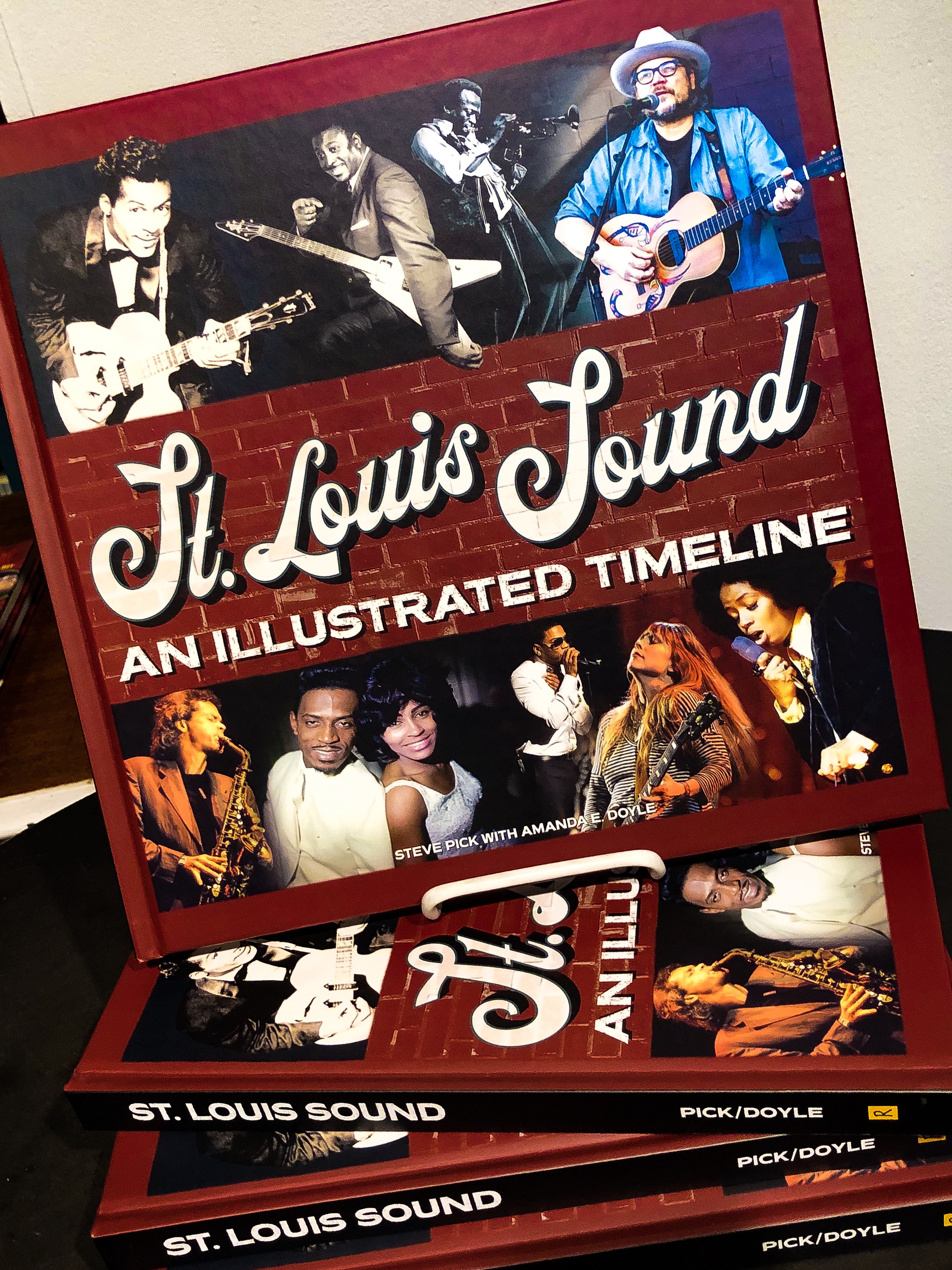 St. Louis is widely known as having the best fans in baseball, inventing toasted ravioli, erecting the nation's tallest monument, and let's be honest….we're totally winning in the crime category.  But it is arguably one of the most underrated music hubs in the country. In fact, when you peruse the new book, St. Louis Sound: An Illustrated Timeline, you'll be sure to discover many acts and artists that are expected, a handful you may not have realized even had roots in the Lou, as well as a few with which you have forgotten.  The layman and the expert, alike, will enjoy hours of thumbing through the book.
The original idea for the book came from the publishing company, Reedy Press LLC, which is based in St. Louis.  Amanda Doyle and Steve Pick were the chosen ones to complete the task. Doyle is a St. Louis transplant with roots in Memphis, Florida, and Mizzou.  
Pick was born and bred pure St. Louis.  He co-founded Jet Lag magazine and brings with him a vast knowledge of a wide range of music genres.  He spent thirteen years reviewing concerts and wrote a music column for the St. Louis Post-Dispatch.  After working in local record stores for the past four decades, playing in a handful of local bands, and hosting a weekly radio show on St. Louis' KDHX-FM, Doyle knew she had chosen the right guy with which to partner up and pen this hometown tributary.
Between the beautifully designed hard covers, you'll find a spectrum of artists that have hailed from St. Louis.  Although it's not a definitive work, you will find all of the big names that you'd expect. Additionally, you'll find homage paid to the St. Louis Symphony, Scott Joplin, and Henry Townsend, Johnnie Johnson, Albert King, and Fontella Bass.  
Additionally, you'll find many of the St. Louis staples that we've come to love and have the privilege of still watching grace the stage today.  Artists like The Urge, Pale Divine, and Fragile Porcelain Mice, Uncle Tupelo, Son Volt, and Jeff Tweedy are just a smattering few among so many more.
In addition to the artists who call St. Louis home, Doyle and Pick rightfully highlight other major contributors that make this a music city.  Fundamental elements include radio stations, disc jockeys, clubs, and venues; some of which are world renowned.
Now, with that said, most music heads with a deep love and knowledge for the St. Louis music scene will notice that there are a few missing pieces of the seemingly one million piece puzzle.  When we asked Pick how he decided who made the cut and who didn't, he said, "Well, there's about twenty of them that are just no-brainers. After that, it's a combination of who we remembered, who we loved, who were really important, and who could represent different aspects of St. Louis music."  
On the contrary, Pick acknowledged that there were some who were unintentionally overlooked.  With regard to the authors' method of choosing those featured in the book, Pick added, "It is a function of what really spoke to us about what made St. Louis, knowing that there are hundreds of brilliant musicians from here that couldn't be in it."
Furthermore, Pick wanted to make clear that "this was not a definitive history of anything.  It is a representative sample of what has made St. Louis such a cool place for a long time."
Reedy Press, LLC released Nashville Sound: An Illustrated Timeline five months prior to the release of St. Louis' version.  Pick pointed out very ingenuously that the St. Louis version is already selling better than Nashville's, to which Doyle so aptly interjected, "Suck it, Nashville!"  I concur.
The official book launch took place at Subterranean Books in the U. City Loop last Thursday.  Fans, friends, and guests were treated to some local nosh provided by Gus' Pretzels and Urban Chestnut Brewing Company before leaving with their newly signed copy; some purchasing three and four at a time!
The authors wrapped up the cozy and intimate evening with trivia taken from the book.  Winners (it was a 3-way tie) walked away with shiny new braggin' rights.
Doyle and Pick stuck around to chat it up with guests, autograph books, and graciously thank folks for their support.
Grab a copy at Subterranean Books, 6275 Delmar Boulevard, St. Louis, Missouri.