Blake Lewis says American Idol Top 12 'Disappointed' Him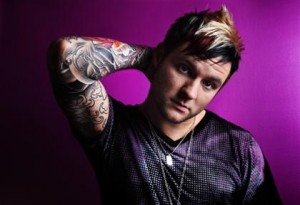 It looks like Blake Lewis is blogging about "American Idol" for USA Today online.
In his blog Blake says,
"I was hoping they were all going to blow it out of the water, but it didn't happen. I was really disappointed at all the song choices the ladies brought to the stand on Tuesday. At least last night, the guys made much better choices."
Blake's least favorite performance?
"This one is a tie between Lee DeWyze and Tim Urban. Tim Urban sang Apologize, which was a terrible song choice for him and his voice. Having played many shows with my friends in OneRepublic and having written with Ryan Tedder, it's hard for me to hear someone so weak vocally cover such an amazingly strong song. Good luck, kid.
Lee sang Snow Patrol's Chasing Cars and was so flat I almost had to turn the volume down on my TV. Granted, his style of voice is not my favorite, but the judges were right there with me, except for Simon. I was almost shouting at the TV 'cause Simon gave him super props. One of the worst critiques he has ever given. He said it was the best performance of the night. Booo!"
Blake's Favorite Performance?
"This one was tough for me because it was between Casey James and my fave, Andrew Garcia. Casey James is growing on me now. He sang Heaven from Bryan Adams. Although he's no Bryan Adams, he kinda did his thang. Kara DioGuardi really loves this guy, and I hope he doesn't take his shirt off again. I think he'll do really well in this competition, and I'm looking forward to seeing what he does in the next couple of weeks.
Andrew did his own rendition of Fall Out Boy's Sugar, We're Goin Down. They always save one of the best for last on this show and,w hile I was surprisingly not stoked with his arrangement, Andrew has a killer vibe and an ear for arranging music. I hope he goes far, and I'm looking forward to hearing more."
Read Blake Lewis' entire blog at USA Today.