'Blair Witch' actor Joshua Leonard stars in 'The Lie'
With Paranormal Activity launching this weekend nationwide, talk about The Blair Witch Project is at its highest point since its release. Paranormal Activity has the chance of being the most profitable film of all time, taking the crown from Blair Witch.  Here comes some news about one of the people involved with the project. Joshua Leonard, one of the stars of Blair Witch, has been signed on to direct and act in an adaptation of a T.C. Boyle short story, 'The Lie'.
From Variety.com:
---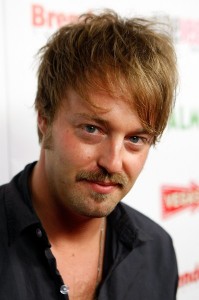 "Humpday" thesp Joshua Leonard will make his feature directing debut and star in indie "The Lie."
Project is based on a T.C. Boyle short story that ran in the New Yorker last year, about a man who tells a lie to get out of work and inadvertently changes his life.
Script was adapted by Leonard, and his co-stars Jess Weixler ("Teeth") and Mark Webber ("Broken Flowers"), with additional story by Jeff Feuerzeig.
Cast includes Jane Adams, with whom Leonard has co-starred in HBO series "Hung," as well as Kelli Garner, P.J. Ransone, Gerry Bednob and Kirk Baltz.
Mary Pat Bentel and Daniel Long produce.
Leonard, who just signed with UTA and is managed by Laina Cohn, first broke out as an actor with indie horror hit "The Blair Witch Project." He directed short "The Youth in Us" and co-helmed documentary "Beautiful Losers."
"The Lie," funded by private equity, starts production this month in Los Angeles.
---
I personally though Leonard was fantastic in the mumblecore picture Humpday. I had no idea during the film I was watching one of the actors from The Blair Witch Project. I don't have anything against The Blair Witch Project, I just was never convinced of its genius. It was a good effort for such a small budget, but overall it left me wanting more. Let's hope that Paranormal Activity doesn't disappoint as much.