Black Dynamite – Blu-Ray Review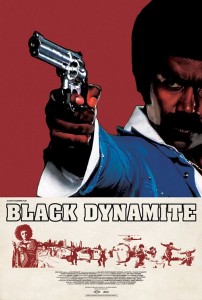 Scott Sanders and Michael Jai White have teamed up on Black Dynamite to make a spoof/homage of black exploitation films of the 60's and 70's and the results are a fun and often hilarious movie that hits all the right notes.
The year is 1972, and Black Dynamite is the baddest mother on the streets, kicking ass, taking names, and bedding women of every race, ethnicity, and color (at once) is not one to be crossed.  But when he learns from an old CIA buddy that his brother has been killed in a drug deal gone bad, Dynamite vows to hit the streets and get to the bottom of this mess leaving everyone dead in his wake behind.  His investigation takes him to the crime underground dealing with pimps and hoes, drug lords and enforcers, and goes even deeper that anyone can imagine.
Now, the plot of the film isn't why you are here, it is silly, over the top, and completely ludicrous but that is all part of the films charm and humor.  Where the real price of admission goes is to the excellent re-creation of the look and feel of these films, from screw ups, to the crazy fights, the ridiculous names, pumped up sex appeal, and low budget film making.  Visible booms, slow camera pans, crappy cut-aways, poor frame replacements, and shitty looking prints, its all here and this would play wonderfully on a double (triple?) bill with Grindhouse.  One of the stand out moments of the film is also the absolutely absurd and drawn out rationalization the characters take from clue A to conclude B and it is just insanely hilarious.
The film is also helped by a fantastic cast that "gets it" and is just having a blast playing out this silly homage.  Tommy Davidson, Arsenio Hall, Mykelti Williamson, are just a few of the familiar faces, but Michael Jai White steals the show and carries everyone on his back as Black Dynamite.  White is a martial arts expert, so he makes the fights almost look too good, but his abilities allow them to take things to another level of absurdity that makes the film work even better.  White's creation of Black Dynamite is so great you can't help but hope for a sequel when the credits roll.
Just remember viewers, when going into this film that it is not serious in any way shape or form.  The film is pure fun and entertainment and has a lot of fun playing with an already laughable set of films viewed on their own right.  The film also serves as a textbook example of how to make a spoof film though.  Respect the genre, have fun, and embrace the gifts that the film styles give you.  Spoof films aren't just cheap and gross imitations of pre-existing films and should be homage of respect as much as making laughs at their expense and Black Dynamite completely gets that.  The film did drag a tad at the end, but it kept things light and fun through out and pacing moved right along
In the end, Black Dynamite is one of the better spoof films of recent memory and would play great with a Grindhouse, Shaun of the Dead, or Hot Fuzz in a double feature.  Scott Sanders and Michael Jai White show some solid filmmaking talent and I hope we at least get another adventure with Dynamite out of these two.  Silly and quality fun is to be had if you choose to check out Black Dynamite and I highly recommend you do so.
Black Dynamite is a B+