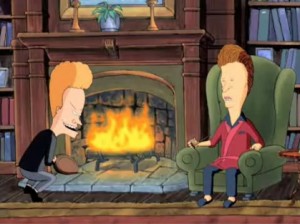 Ahh yes, who could forget Beavis and Butt-head. The cartoon that Mike Judge is best known for, which came before the long running "King of the Hill," Beavis and Butt-head were the two troubled, music video loving teens that we couldn't help but to watch get into trouble. For fans of the series, the two lovable miscreants have returned – to promote Mike Judge's newest film – "Extract."
In the movie, Joel (Jason Bateman) is the owner of a plant that produces various types of cooking extracts – cherry, vanilla, root beer, etc. Joel would like to sell his company and retire, but an incident that takes place at the plant may change all of his plans. Joel's live is set into a series of crazy events, jump started by his bartender buddy Dean, that are sure to lead to many laughs.
Bateman is joined on-screen by a great cast, including J.K. Simmons, Kristen Wiig, David Koechner, and even Gene Simmons.