August: Osage County is coming to the Fox Theatre in St. Louis!
March 2-14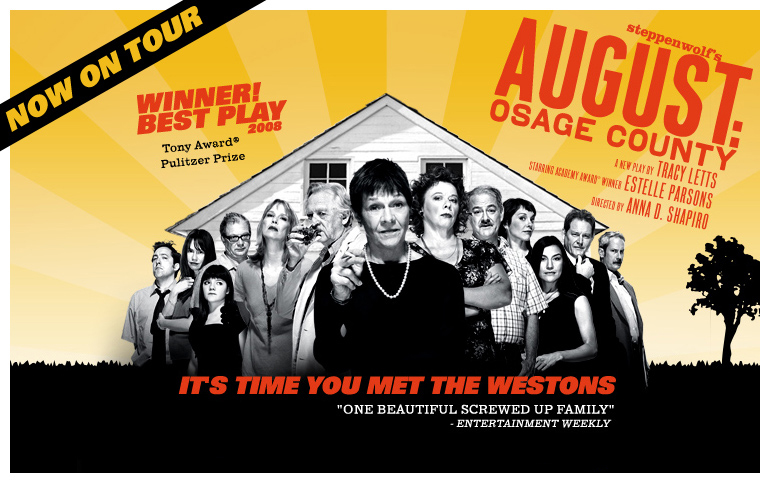 "August: Osage County," the 2008 Pulitzer Prize and Tony Award-winning play, is coming to the Fabulous Fox Theatre in St. Louis! The show tells the story of the Weston family, living Pawhuska, Oklahoma. It is about a father who disappears. A mother caught in the grip of addiction. A marriage unraveling, and a family approaching total meltdown. The New York Post calls it, "ENORMOUSLY ENTERTAINING!" Written by Tracy Letts and directed by Anna D. Shapiro, August: Osage County has audiences around the country talking about an unforgettable night at the theatre!
The mother of the Weston family is played by Academy Award-winner Estelle Parsons (Best Supporting Actress, Bonnie and Clyde (1967)). The New York Times says, "Estelle Parsons gives a superb performance…sends chills down your spine. It may prove to be a crowning moment in an illustrious career." Joining Ms. Parsons are Shannon Cochran as Barbara Fordham, Jon DeVries as Beverly Weston, Libby George as Mattie Fae Aiken, Stephen Riley Key as Little Charles, Emily Kinney as Jean Fordham, Laurence Lau as Steve Heidebrecht, Marcus Nelson as Sheriff Deon Gilbeau and understudying Bill and Steve, Paul Vincent O'Connor as Charlie Aiken, Jeff Still as Bill Fordham, DeLanna Studi as Johnna Monevata, Angelica Torn as Ivy Weston, Amy Warren as Karen Weston, Avia Bushyhead, understudying Johnna, Jean, Ivy and Karen, Stephen D'Ambrose, understudying Beverly and Charlie, Barbara Kingsley, understudying Violet and Mattie Fae, Bryn Magnus, understudying Little Charles and the Sherriff and Kim Martin-Cotten, understudying Barbara, Karen and Ivy.
Meet the Family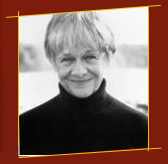 ESTELLE PARSONS (Violet Weston) was an original member of the NBC-TV "Today Show" and was the first woman to do news reporting for a television network. She made her Broadway debut in Happy Hunting with Ethel Merman and received Tony nominations for The Seven Descents Of Myrtle, And Miss Reardon Drinks A Little, Miss Margarida's Way and Morning's at Seven. She has appeared with Steppenwolf in Rod Wooden's Your Home in the West and Alan Bennett's Talking Heads. She won an Academy Award for her performance in the film Bonnie and Clyde and was nominated for her performance in Rachel, Rachel. Other films include I Never Sang for My Father, Don't Drink The Water, Watermelon Man, For Pete's Sake, Dick Tracy, Al Pacino's Looking for Richard and more. On television she starred as "Roseanne"'s mother for ten years, appeared often on "All in the Family" and "Archie's Place", starred in "The UFO Incident", "Empire Falls" and more. She was inducted into the Theater Hall of Fame in 2004.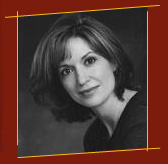 SHANNON COCHRAN (Barbara Fordham) Third Tracy Letts play – original casts of Bug (Obie, Theatre World Award, Drama Desk nom.), and Man From Nebraska. Regional theatre: Steppenwolf, Long Wharf, Goodman, Mark Taper Forum, South Coast Repertory, Geffen, Cincinnati Playhouse, and others. Film: The Ring, Star Trek: Nemesis, The Babe, Flowers and Weeds. TV: "Numbers", "Law and Order: SVU", "Grey's Anatomy", "The Office", "The Unit", many "Star Treks" and others.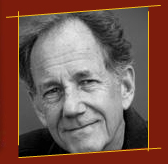 JON DEVRIES (Beverly Weston) Broadway: Devour the Snow, Major Barbara, Execution of Justice, The Chery Orchard. Off Broadway: Sight Unseen, Hamlet, Richard II, Goodnight Children Everywhere, The General From America, One Flea Spare, Marlowe. 7 years w/ LaMama Rep (ensemble Obie). Regional: Uncle Vanya, Two Rooms, Much Ado About Nothing. TV/Films: "Law & Order", "Law & Order: CI", "Star Trek: The Next Generation", American Gangster, Che, Lianna, Evening, etc…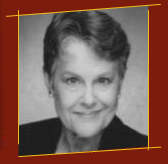 LIBBY GEORGE (Mattie Fae Aiken) Three seasons with John Houseman's Acting Company.  Opera: Florida Grand, Philadelphia Opera Companies.  Regional: Alabama and Utah Shakespeares, New York Stage & Film, Pioneer, McCarter, etc.  New York: Cinderella Waltz, Jack the Ripper Review, Richard III, Ladies of the Corridor.  Film: The Feud, Kate & Leopold. TV: Daytime, PBS American Playhouse, all three "Law & Orders", "Rescue Me", "The Book of Daniel", "Life on Mars".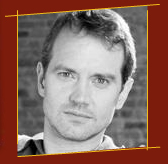 STEPHEN RILEY KEY (Little Charles) Off-Broadway: Blue Surge. Chicago: Blue Surge (orig. cast, dir. Bob Falls), Vigils, Zoo Story, The Libertine, As I Lay Dying (orig. cast, adaptor /dir. Frank Galati), One Arm (orig. cast, adaptor/dir. Moises Kauffman), Grace, Better Late (orig. cast, authors Larry Gelbart, Craig Wright), Execution Of Justice (dir, Gary Griffin). Film/TV: A Thousand Acres, Public Enemies, "Law & Order: SVU", "Family Practice".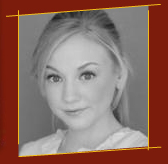 EMILY KINNEY (Jean Fordham) Broadway: Spring Awakening, Off-Broadway: Iphigenia 2.0 (Signature Theatre), Rupunzarella White (13th Street Repertory), The One Night Stand Chronicles (Manhattan Repertory) Regional: A Midsummer Night's Dream (STONC), TV/Film: "The Untitled Nancy Meyers Project", "The Unusuals" (ABC), "Law & Order: Criminal Intent", "GameKillers" (MTV). Thanks to Mom, Dad, Katers, Sara, Ben, my voice coach Marianne Wells, Bill, and Abrams Artists!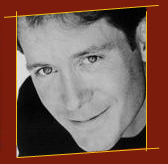 LAURENCE LAU (Steve Heidebrecht) TV: Series Regular on "All My Children" (Greg Nelson), "Another World" (Jamie Frame), and "One Life To Live" (Sam Rappoport). Recurring on "As The World Turns" (Brian Wheatly), "JAG" (Dr. Gettis). Guest Spots: "Law & Order", "Frasier", "Diagnosis Murder", "Brimstone". THEATRE: Off-Broadway: The Exonerated, Scituate, Arrivals. REGIONAL: Whose Life Is It Anyway?, Breaking Legs, The Goat Or Who Is Sylvia?. Plus several independent films.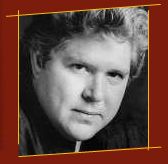 MARCUS NELSON (Sheriff Deon Gilbeau, u/s Bill, Steve) grew up on the banks of the Mississippi river and celebrates twenty-three years acting in Chicago. He is a longtime associate of the educational theater company SST Communications His credits include the original productions of Tracy Letts' Killer Joe/Ansel (NextLab, NYC, London Edinburgh) and, BUG!/Goss (The Gate, London), as well as many more. Marcus recently received his Masters in Elementary Education. H. W.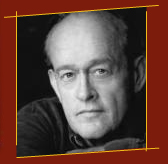 PAUL VINCENT O'CONNOR (Charlie Aiken) has worked extensively in regional theatre, film and television. Theatre credits include 16 years as a member of the Oregon Shakespeare Festival. He has appeared in numerous television shows including "24", "West Wing", "Numbers", "Cold Case". Films include Seabiscuit, Inherit the Wind. He recently appeared in August: Osage County (National Theatre, London) and The Seafarer at the Geffen Playhouse in LA.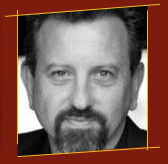 JEFF STILL (Bill Fordham) Off-Broadway: Our Town, Adding Machine, Orson's Shadow. London: Bug. Steppenwolf: A Clockwork Orange, Wolf Lullaby, Mother Courage, The Dresser, Sonia Flew, others. Film/TV: Public Enemies, The Express, The Hudsucker Proxy, Chicago Cab, Law & Order, Early Edition, Good Night Sweet Wife, To Sir With Love II. Jeff saves the best credit for last: he is Luke's dad.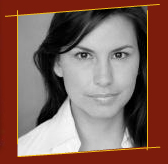 DELANNA STUDI (Johnna Monevata) World premiere credits include From the New World (Disney Concert Hall), James Still's Interpreting William (IRT) and A Long Bridge Over Deep Water (Ford Amphitheatre), Bea[u]tiful in the Extreme, TeAta, Berlin Blues and the solo performances What's an Indian Woman To Do and ENCOMPASS' Compassion Play Kick. Her film credits include Edge of America (Peabody Award), Hallmark's Dreamkeeper, and The Only Good Indian.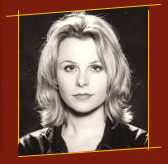 ANGELICA TORN (Ivy Weston) Theater: Edge (Outer Critics Nomination, New Times Award), Tony Award winning Sideman (Helen Hayes Award, FANY Award), The Bay at Nice (American Premier), The Vagina Monologues, Albee's Who's Afraid Of Virginia Woolf? (Carbonell Nomination),Tony Award winning revival of Anna Christie. Television: "Law & Order", "Sopranos", "As The World Turns", Film: Nobody's Fool, The Sixth Sense, The Contender, Domestic Disturbance, Nothing But The Truth, The Hungry Ghosts, Lucky Days.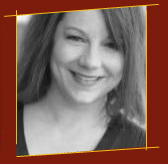 AMY WARREN (Karen Weston) Broadway: August: Osage County (Karen). Off-Broadway: Adding Machine, a Musical (Drama Desk, Outer Critics Circle, and Lortel noms, Best Featured Actress in a Musical), When the Messenger is Hot. Steppenwolf: Mother Courage, Ten% of Molly Snyder, House of Lily, The Weir. Goodman: Rabbit Hole, Heartbreak House, Trojan Women. Also, About Face, Northlight Theatre, Piven Theatre, Curious Theatre Branch and Theatre Oobleck. TV: "Law & Order".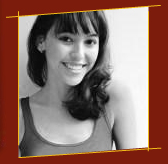 AVIA BUSHYHEAD (u/s Johnna, u/s Jean, u/s Ivy, u/s Karen) After making her Broadway debut with August, she is thrilled to be on the national tour! A graduate of NYU's Tisch School of the Arts, she has performed at The Music Box, The Public Theater and Theater for the New City, among others in NYC. Special thanks to Amy Schecter, Jane Grey, mom Leta, dad Bob, and brother Butler. LTD.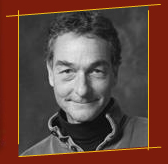 STEPHEN D'AMBROSE (u/s Beverly, u/s Charlie) Theater: Off-Broadway: New York Classical Theater; Regional: Two River Theater Company, Folger Theatre, Arizona Theater Company, San Jose Rep, San Diego Globe, Guthrie Theater, Ten Thousand Things Theater Company, Great American History Theater, Children's Theater Company, Jungle Theater, Park Square Theater. Film: Sweet Land, Herman USA, Factotum, A Christmas Carol, Trauma,The Cure Awards: Mckinght Artist Fellowship.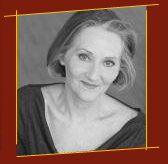 BARBARA KINGSLEY (u/s Violet, u/s Mattie Fae) Broadway: August: Osage County. Regional Theater: Guthrie, Berkeley Rep., The Alley, La Jolla Playhouse, Arizona Theatre Co., Theatre De La Jeune Lune, The Jungle Theater, Ten Thousand Things Theater, Park Square Theatre. Film & Television: Ticket Out, Deer Hill Road, Older than America, A Simple Plan, The Straight Story, Sweet Land, Overnight Delivery, Herman USA, Here On Earth. Playwriting: Living In The Blue Zone, 9Thirty Theatre Co. Teaching: University of Minnesota.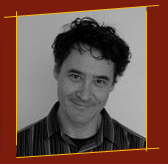 BRYN MAGNUS (u/s Little Charles, u/s Sheriff, Assistant Stage Manager, Fight Director) Love and Sin Series(Steppenwolf Theater), The Third Degrees of J. O. Breeze (NY Fringe), Faustus Light the Lights (Doorika). Author of World Set Free (Steppenwolf Theater), Love Horse (Curious Theater Branch), Don't Tell Us We're Here (Curious Theater Branch). Member of Curious Theater Branch, Former Managing Director of Free Street Theater.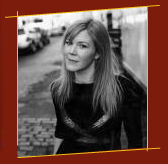 KIM MARTIN-COTTEN (u/s Barbara, u/s Karen, u/s Ivy) Recent work includes Goneril in Bob Fall's production of King Lear with Stacy Keach at both The Goodman Theatre and The Shakespeare Theatre DC. Her New York work includes the premier of Mermaid by Ellen McLaughlin and the title role in Julius Caesar for Guerrilla Shakespeare. Regionally she has worked widely on varied stage projects. Kim has also done a variety of film and voiceover work. She is a company member of Great River Shakespeare. Recent directing includes: Death of A Salesman, Cabaret, Proof. Recent writing includes the plays Entangled and Geniuses.
Awards
August: Osage County has bee nominated for seven Tony Awards and winning five, including Tony Awards for Best Play and Best Director, along with Drama Desk, Outer Critics Circle and New York Drama Critics Circle Awards, including Best Play, Best Director and Best Scenic Design, August: Osage County opened at the Imperial Theatre Broadway on December 4, 2007, to wide critical acclaim. The New York Times called August: Osage County "The most exciting new American play Broadway has seen in years," and it was voted The #1 Play of the Year by Time, The Associated Press, Entertainment Weekly, and TimeOut New York. After a sold-out engagement at the Imperial Theatre, the show re-opened at the Music Box Theatre on April 29th, 2008. August: Osage County closed on Broadway on June 28, 2009 after 648 performances and 18 previews, surpassing The Heidi Chronicles, Master Class, The Real Thing, and Doubt, among many others, to become one of the longest running plays in Broadway history.
---
August: Osage County will be playing at the Fabulous Fox Theatre in St. Louis from March 2 to the 14. You can purchase tickets at Metrotix, or visit the Fabulous Fox website for more details.