Are These Our First Looks at JJ Abrams' New Film "Super 8″?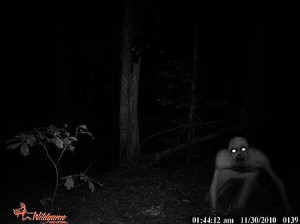 Some of you may have forgotten about the trailer released last April for JJ Abrams' newest project Super 8.  Like Cloverfield, this first trailer showed close to nothing but perhaps the set up for the story and left audiences asking all kinds of questions.  Well the film was cast and began shooting in September.  There have been some set pics leaked online involving military tanks in a suburban area, but is this our first look at what the aliens in the film could look like?
My guess is probably not.  The image to the right supposedly came from the set of the film in West Virginia.  Sources from the production of the film say it is part of a viral campaign for the film.  I think it looks like a fan created photoshop image. 
The image below is said to be concept art for the film's creatures.  Now, this very well could be, but you also need to remember how many different concept art renderings came out for the Cloverfield monster.  So the final creature in the film may have the same teeth, but everything else will be different.  I'm sure only a select few know at this time.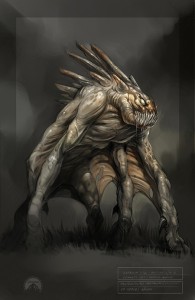 As with close to everything Abrams does, he is keeping everything about the film pretty close to the chest.  This is what we do know, "SUPER 8 follows a group of teenagers that discover that they've captured the image of an alien creature on their super 8 camera."  Super 8 hits theaters in June 2011.
So what do you think of the images, real or fake?  Let us know in the comments below.