April 3rd New Releases
This weeks rundown of what is out on Friday. There's only two major releases, but they both could be big.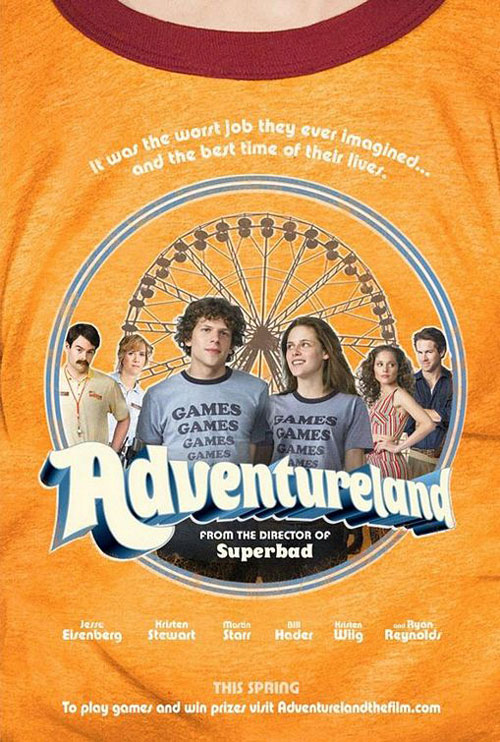 Adventureland
Greg Mottola's followup to 2007 break out hit Superbad, Adventureland is a coming of age comedy set in 1987. Recent college grad James Brennan finds himself not able to go on his trip to Europe and has to find a summer job until he can continue grad school next year. He takes a job at a local theme park where he falls in love with the lovely Em (played by Twilight's Kristen Stewart). Of course, there is more to this story as well. James's love interest is having an affair with the theme park handyman, Mike Connell (played by Ryan Reynolds). Expect characters to change over the summer and grow. One of the things that made Superbad so popular is that you could sit there and think of how many times you had the thoughts of the main characters. While the events of your life may have not turned out so comically perfect, you can at least relate. Expect more of the same in Adventureland. Mottola seems to have a gift for crafting great characters who are easily relatable to and while not completely real still feel that way to you. The only thing to be seen is if teenagers who weren't even born at this time will relate to the period it is set in.
If you like the Apatow style of humor ala Knocked Up, 40 Year Old Virgin, Pineapple Express, Superbad, etc. Then this movie is going to be right up your alley. A lot of analysts are calling for this to do just ok business at the box office this weekend, in the range of about about 10-12 million for the weekend. I think it's going to be a breakout hit. I will eat my words later if I am wrong, but I'm going to say it's going to have around a $20 million opening weekend. With favorable reviews (which it is already getting) and great word of mouth it should have some staying power.


Fast & Furious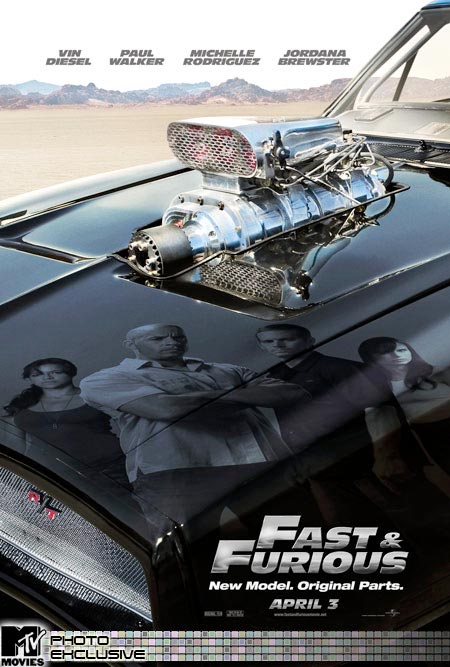 So, here is a Fast and Furious movie that actually has the cast that made the first one so popular. The first was fun, if not a little stupid, action movie. 2 Fast 2 Furious ramped up the stupid and the action, and without the full cast it kind of fell flat on it's face. In comes Director Justin Lin who is best known for 2002's Better Luck Tomorrow and revives the franchise a bit with Fast and Furious: Toyko Drift. While the dialog in it was a bit corny at times the overall feel of the film was much better than the previous film. Action scenes were breakneck and back on form. Someone at the studio liked it enough to let him helm the new movie which reunites the original cast. Fast & Furious brings back Vin Diesel's character Dom to LA once again. Confrontation between Paul Walker's Brian is imminent, however, they are instead forced to team up again to battle a common enemy.
I was originally really psyched for the movie when the original teaser came out. The action seemed very rooted with less reliance on stupid CG car chases and more real stunts. My tune changed a bit when I saw this years Superbowl spot. The portion where Dom guns it drive right under a flaming tanker was a little too much for me to take. We'll see how well it turns out. I'm going to see Adventureland this week before I see this, but let's face it, I will see this movie. If you like high octane action and have a really good suspension of disbelief than this movie is probably for you. Expect a decent gross this weekend in the $40 million dollar range. This one will most likely have a huge drop the next weekend.


———————————————
Looks to be another big weekend at the box office. Monsters vs Aliens should have another good week due to the popularity of its 3d screenings. Fast &Furious should take the top spot this weekend though. I still think that Adventureland could be a sleeper hit for this year.