Apolo Ohno Disqualified (Video) in Men's Speedskating 500m, Wins Bronze in Relay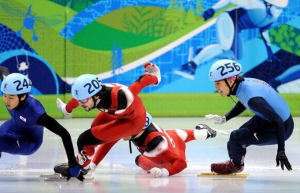 Last night in men's speedskating, Apolo Ohno was disqualified on the short-track 500 race. Ohno accidentally lifted his hand and bumped into Canadian skater Francois-Louis Tremblay around the final turn. Canadian skater Charles Hamelin took home the gold medal.
After the race Apolo said, "I think that was three of the fastest guys I have ever skated against. In the 500, you've got to be up towards the front if you're going going to make any moves. The race was fast enough where there wasn't any room to move up, so I was just kind of waiting, waiting, waiting." About the disqualification Ohno said, "going into the last corner, I ran up on the Canadian guy, he slipped and the Korean slipped. I don't know why they called me for disqualification. I was in fourth the whole race. Either way, I'm happy with how I skated… we still have the relay."
Click here to watch the entire Men's Speedskating 500m.
Apolo was absolutely right about still having a chance to bring home another medal for the US. In the 5,000m short track relay, Ohno took third place. This was his second bronze medal for the 2010 Winter Olympics, in which he won a silver medal in the 1500m as well. This makes 8 career medals at the winter games, and has the most short track medals of any skater.
Watch Apolo Ohno in the 5000m relay on the short track, winning his 8th career medal.