American Idol Offers Ridiculous Apology For New Judge Steven Tyler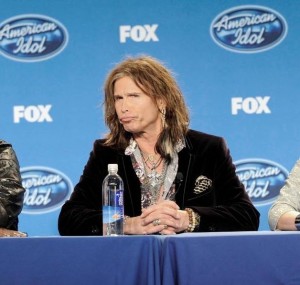 Wednesday night, American Idol opened with a rediculous apology from Ryan Seacrest on behalf of the show. The apology was aimed at new judge and Aerosmith front-man Steven Tyler.
"American Idol would like to apologize for last week's outrageous behavior by Steven Tyler. Mr. Tyler has been warned and assures us it will never happen again," said Seacrest.
The apology refers to a clip from auditions, where a contestant comes in and says his last name is "Muck." Steven Tyler then asks the contestant if he knows what Muck rhymes with and says, "Read my lips…"
The apology insinuates that Tyler has been warned about his behavior, and any further infractions may constitute kicking him off of the show. With that being said, was it bogus?
The clip was taken from footage that was not live. No matter what Steven Tyler says, and I am sure that there is plenty that never leaves the cutting room, only American Idol has control over what airs. So it is nobody else's fault but their own. What else is there to say?
I am sure that Steven Tyler's apology was nothing more than a hoax, or a publicity stunt. Maybe just poking fun at the people who wrote in and called to complain about the clip. If that is the case – lighten up people.
What do you think? Is the apology real? Did Tyler do anything wrong? Leave a comment below!