FOX's "American Idol" 2011 Season 10 Star Studded Finale
American Idol 2011 Season 10 Star Studded Season Finale (5/25/11)
Who won American Idol Season 10?
You're going to have to wait a couple minutes to find out the answer to that question, if you haven't already looked it up!
The Season 10 Finale of American Idol featured performances from: Beyonce (solo and with the idol girls), Lady Gaga (Solo), Judas Priest w/ James Durbin, Tim McGraw w/ Scotty McCreery, Tony Bennett w/ Haley Reinhart, Kirk Franklin and Gladys Knight w/ Jacob Lusk, Jack Black w/ Casey Abrams, Carrie Underwood w/ Lauren Alaina, Tom Jones w/ the Idol Guys, TLC w/ Lil Jon, Mark Anthony w/ J Lo, Bono and The Edge w/ Reeve Carney (of Spiderman on Broadway), and we close the guest performances off with the much anticipated, and highly predicted, performance by Steven Tyler.
Throw in the normal fill in material like: Tributes to the judges and to the finalist, the "Most Shocking Elimination", the other contestants making fun of the age of the finalists, and the finalist (with Ford's help) giving their biggest mentor a new car…..and receiving one themselves, and you have the Season Ten Finale!!!
Oh yeah, now for who was actually, to quote Randy Jackson, "In It To Win It". If you read my article last night then this should have been no surprise to you. The person that I said blew me away and should truly be the next American Idol, didn't win. Judging by my track record the last couple of weeks I knew that this result was going to occur. Next year I'm not going to make predictions on this show. I'm just going to let it play out for what it is, because it seems that when I make a prediction it always seems to come back on me in some way. So, I do apologize to all the singers who I may have enjoyed because that got you eliminated from the competition. I am officially proclaiming myself the Idol Jinx!
Scotty McCreery Wins Idol Season 10
With all that being said, Congratulations to Scotty McCreery on being the American Idol Season 10 Winner! I didn't have faith in you, but the better part of, a record, One Hundred and Twenty-Two Million people did so kudos on that. America was behind you from the beginning and you kept them on your side and now you can add this trophy to your mantle piece……do people even have mantle pieces anymore?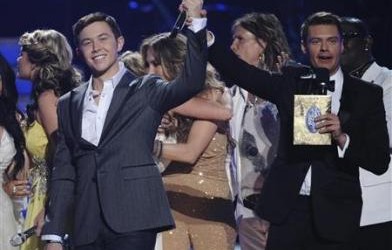 I did enjoy the finale, for the most part. Take out the Mark Anthony performance and the Spiderman Performance thing with Bono and the Edge, and I wouldn't have any complaints at all from the finale. I was fully impressed by Tony Bennett and Haley Reinhart's performance of "Steppin' Out With My Baby" and James with Judas Priest was absolutely amazing. Casey Abrams and Jack Black performing together was perfect, especially doing Queen's "Fat Bottom Girls", and I hate to admit it, but Scotty with Tim McGraw was actually a really good performance.
I was moved by Scotty's performance after he won the whole thing. It truly felt like he was extremely sincere in his acceptance speech and his reaction to winning was absolutely priceless. So, once again I will congratulate Scotty McCreery on winning American Idol Season 10 and I wish him and all of his fellow contestants all the luck in the world in your future endeavors.