Alcatraz and The Finder highlight the mid-season "Newbies" along with returning favorites
It's been a while since I've done one of these because our beloved television shows have been on their traditional holiday hiatuses.  But now they are back, so that means I'm back.  The coming weeks should be overly entertaining as Idol is back and there are more than a few new shows that I am enjoying.
Before I get into anything, I thought I'd remind you of the shows that have been taken off the air so far this season in the world of Network Television: Work It and How To Be A Gentleman have claimed the honor of being this seasons shortest lived shows with only three episodes that aired (I never personally watched Work It because it looked like a horrible show).  Free Agents and The Playboy Club are next in the shortest lives with only four episodes before NBC killed them. I'm still a bit bitter about The Playboy Club because I actually enjoyed that show (and not for the women…well) but Free Agents was horrid and I'm not surprised it was pulled. Allen Gregory and Charlies Angels were next with seven episodes before being cut. Man Up was ousted next with only nine aired episodes. The final shows on the list are ABC's Pan Am and NBC's Prime Suspect which have both been given the chance to run their courses before they are pulled. Coincidentally both of their finales are tonight (Sunday 1/22), so if you were a fan then there's your last chance to catch either of these shows. I personally thought Pan Am had been getting better and better from week to week and its ratings weren't horrible so I'm kind of surprised ABC pulled it from its lineup.
Now, out with the dead shows, in with the new shows, and so far  FOX seems to have a lock on all the new shows with The Finder, Alcatraz, and Touch premiering this week. The Finder follows ex military man, Walter Sherman, on his obsessive quest to find things. Two episodes in and I will fully, one hundred percent, admit that when I set this show up to record I thought it was the new Kiefer Sutterland show (which actually premieres this week…my bad…)but when I watched the first episode (expecting Jack Bauer none the less) I immediately got pulled in by the witty dialog and the stories that went along with it. I would definitely recommend checking this show out.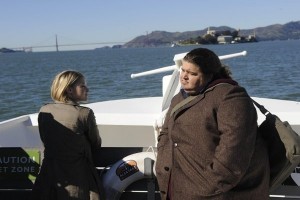 Another show that I would highly recommend is FOX's Alcatraz which delves into the story of the infamous prison island off the coast of California. They start us off a day before it was closed for good (March 21, 1963) and a group of prison guards are walking the grounds and absolutely nobody is there, I mean the place was a ghost house. Fast forward to present day and inmates from "The Rock" miraculous start reappearing and killing anyone who stands in their way. The show follows Detective Rebecca Madsen after she gets roped in by the murder of a former federal agent. She starts looking into it more and more and eventually gets recruited by Emerson Hauser, who is the man that was there the day of the disappearance and he also seems to know that they are all coming back. Two episodes in and I am hooked. The story behind these inmates, Jack Sylvane and Ernest Cobb so far, is absolutely intriguing and the build up to the final scenes has been breath taking.
One show that I really didn't enjoy was NBC's Are You There, Chelsea which jumps into the life of beloved comedian Chelsea Handler and is based off of her previously published novel Are You There, Vodka. I watched the first episode and wasn't all that impressed. It's been doing decent in ratings (No thanks to following Whitney) but I really just couldn't get into the show…sorry. Rob is another show that just hasn't sparked any interest in me but its doing great in ratings as well so I may just check it out.
One quick note on American Idol: I do watch the show but I won't watch the show fully until they get to the competition stages of the show. Sure the auditions are fun to watch and I'll check in on it periodically but I don't need to proclaim that Phillip Phillips is going to take home the big prize at this point.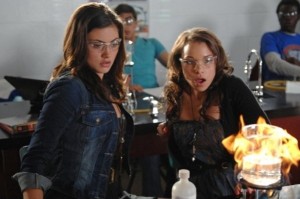 I still hate to admit that I absolutely love The CW's The Secret Circle but what is not to love. I mean everyone is doing "Vampire" related shows right now and The Secret Circle is one of the first shows based around witches since Charmed. I like originality and that is exactly what this show is and so far, in the three episodes back, we have had quite a few questions answered. Revenge is another one of those shows that has me completely intrigued from week to week with all of the stunning developments that is has every episode. ABC's Once Upon A Time is still solid from week to week and this week was no different as they jumped into the story of Hansel and Gretel…with of course the twist that Once Upon A Time puts on all of their famous tails. These three shows I would highly recommend checking out. I don't want to give away too much information about them. I just hope that you take my word for it that they are really good.
On the comedy side of things, I'm still a bit upset that NBC has put Community on an extended hiatus because I think Community is one of the more entertaining comedies on television.  However,with the loss of Community comes the reemergence of 30 Rock.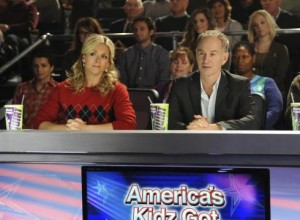 30 Rock is one of those shows that I didn't want to watch because everybody watches 30 Rock and I didn't want to join the trend, but once the reruns started taking over my television I gave it a shot (I mean it has to be good if it can replace one of the half an hours of The Simpsons on ABC). So far this season 30 Rock has been pretty good, not as good as some of the older episodes, but this past weeks two part episode should make for a very interesting Thursday this coming week as they will air two episodes ("Idiots Are People Three!" and an untitled episode).
Other noteworthy shows coming back from hiatus: Big Bang Theory has  Leonard and Penny debating getting back together, The Office has been as clever as always, How I Met Your Mother has the gang dealing with Lily and Marshall moving away, 2 Broke Girls has the girls dealing with a rowdy upstairs neighbor who they came to the conclusion was a prostitute, New Girl brought back the "Douche Jar", Last Man Standing saw Mike trying to withhold his opinions in order to get in good with the neighbors, Modern Family pushed the envelope with "Little Bo Bleep", Suburgatory has been as witty as always, Happy Endings got into Dave's V Neck Fetish, and what can you say about Paul Rudd making an appearance on Parks and Recreation other than it was absolutely amazing.
So what you can take from the television mid season to this point is that it has been nothing short of amazing and I am fully looking forward to what this season is going to bring from this point on.