Album Review: 'Unimagine' by Hands Like Houses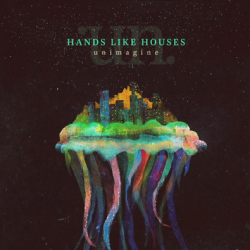 Perhaps it's something they put in the water, but three of my favorite bands in recent memory have all hailed from the land down under.
Back when I briefly played bass for a metal band(!), I was introduced to a metalcore band called Parkway Drive, an extremely talented brutal assault on your eardrums. After them I found The Amity Affliction, a post-hardcore/melodic hardcore band hailing from Gympie, Queensland. Not quite as intense as Parkway Drive, TAA tends to blend screaming with clean singing on every song and leans toward the melodic just as often as they churn out dissonant riffs.
Now, on the cleaner end of the spectrum comes Hands Like Houses, whose debut album Ground Dweller was released on Rise Records last year and received positive reviews. Featuring almost exclusively clean vocals and melodic riffs, Hands Like Houses may be ignored by most of the metal/hardcore crowd as well as the more traditional alternative/rock fans. To do so, though, would be a tremendous mistake. Less than a year after releasing Ground Dweller (as well as an acoustic EP called Snow Sessions), Hands Like Houses has released their sophomore effort, Unimagine. While the album's not perfect, it's a solid example of what a follow-up album should be.
Hands Like Houses receives a lot of comparisons to Emarosa and Dance Gavin Dance, and the instant you hear lead singer Trenton Woodley's full range, it's not hard to imagine why (the comparison has some merit – Jonny Craig did guest vocals on Ground Dweller). Interestingly, Woodley appears to be at his most comfortable when he's testing the limits of his vocal ranges, often during the choruses.
Perhaps one of my favorite parts (and one of the most underappreciated) are the moody riffs laid out by lead guitarist Matt Cooper. They're not overproduced so much as to take attention from Woodley, but they're not diminished enough to be negligible. While he takes the lead in songs such as "A Tale of Outer Suburbia," the mournful, atmospheric line set in "Weight" is almost a second voice to balance out Woodley's.