Albert Pujols vs. Shaquille O' Neal in Home Run Derby! FREE Tickets!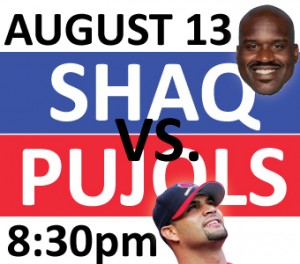 That's right! You didn't read the title wrong… The famous NBA basketball star, Shaquille O' Neal, has challenged our very own baseball all-star Albert Pujols to a Home Run Derby! As strange as something like that sounds, it is equally or more awesome that it is actually going to happen! The reason for the event is due to a new TV show on ABC, "Shaq Vs." In the show, Shaquille O' Neal will challenge professional athletes to different sporting events in their expertise and try to beat them. Pretty cool, huh?
Hurry! Get FREE Tickets to the Home Run Derby here!!
From the River City Rascals
O'Fallon, MO – T.R. Hughes Ballpark and the River City Rascals of the independent professional Frontier League will play host next Thursday, August 13 to NBA superstar Shaquille O'Neal and two time National League MVP Albert Pujols for the filming of the ABC tv show Shaq Vs.
EVENT: ABC Entertainment TV show "Shaq vs." will film at T.R. Hughes Ballpark, home of The River City Rascals. NBA Superstar Shaquille O'Neal will face two-time National League MVP Albert Pujols in a competition on August 13, 2009.
GATES OPEN: 7:00pm
EVENT TIME: 8:30 (approx.)
TICKETS: Tickets are available online at www.rivercityrascals.com. There is a limit of four per person and they are free of charge.
LOCATION: T.R. Hughes Ballpark
900 T.R. Hughes Blvd.
O'Fallon, MO
63366
DIRECTIONS: T.R. Hughes Ballpark is located one mile north of interstate 70 via exit #219 on the corner of T.R. Hughes Blvd. and Tom Ginnever. (Approximately 35 miles West of St. Louis, MO)
CONCESSION: Full concessions will be available for this event.
PARKING: FREE Lot is located at T.R. Hughes Blvd. & Tom Ginnever Ave. Addl. parking will be available & directed by the police
For more information email: [email protected]
This event will be filmed. By attending you give your consent to for the production company, to use and publicize your voice, actions, likeness and appearance, in any manner. If you do not want to be filmed, do not attend.
NOTE: NO MEDIA COVERAGE ALLOWED AT EVENT!
This also means no cameras, cell phones (of any kind) or recording devices allowed in the stadium! Leave them in your car!