"Alan Wake" HD Trailer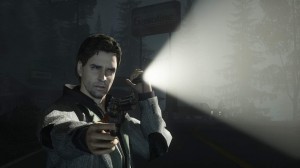 I sometimes lament at all the good video games that come out. You see I see a few hundred films per year, read about fifty or sixty books, and I try to play all the video games that interest me.  Unfortunately, I just don't have the time to play everything I want. So, I have to make the hard choice of if I'm going to play a cool game like Alan Wake or not.  The game seems truly entertaining, and it looks like it is an excellent drain on my time (I apparently only like games that use up large amounts of  my time). The use of light as weapon seems like a really cool option, and I'm really digging the fact that you can do different things at day and night in the game. Looks like I might have another game I have to add to my Gamefly account.
Synopsis:
IN DARKNESS, FIGHT WITH LIGHT.
When the wife of the best-selling writer Alan Wake disappears on their vacation, his search turns up pages from a thriller he doesn't even remember writing. A dark presence stalks the small town of Bright Falls, pushing Wake to the brink of sanity in his fight to unravel the mystery and save his love.
With the body of an action game and the mind of a psychological thriller, Alan Wake is a pulse-pounding thrill ride.
Release Date: May 18, 2010