'After Earth' HD Trailer by M. Night Shyamalan (Will Smith, Jaden Smith)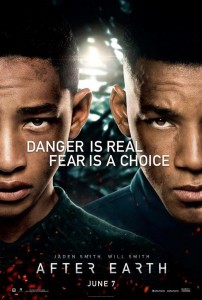 M. Night Shyamalan has not had a good last decade. Well, better than you, but he's a millionaire, what do you expect? His last positively reviewed film was 2002's Signs. Yup, you read that right. The last time Shyamalan had a truly popular film was when Mel Gibson was still well liked. I know, we can't remember the time either. This time he's going for broke by teaming up with Will Smith who seems to be able to do no wrong.  Smith, arguably this generation's most liked actor, might be able to take a Shyamalan vehicle and make it as successful as Bruce Willis did with The Sixth Sense and Unbreakable.
Sure, the pairing of Shyamalan and Smith is intriguing. Even more intriguing is the fact that Smith will once again be starring with his son Jaden who has become a star in his own right since starring in 2006's The Pursuit of Happyness with his father. Jaden's brand has risen a bit further when he co-starred with Jackie Chan in 2010's Karate Kid re-make.  Can the two combine their generational star power and make After Earth one of the biggest films of 2013?
This is now the second trailer for the film, and I've yet to be sold on the idea. It's far enough in the future that humans have cool space technology, but they don't have weapons more advanced than a poor lightsaber substitute? Hopefully there will be some sort of explanation in the film as to why they only have a melee weapon. The other question is just how far into the future is this? Originally the production was 1000 A.E., and it was supposed to be about a thousand years in the future. I'm not sure if these people know how evolution works, but Earth wouldn't evolve creatures that quickly to take on humans. Maybe the science nerd in me just needs to settle down and watch the film.  Regardless, my opinion of Smith isn't as high as it once was, but it's high enough to give me a bit of excitement over his newest film. Let's hope it doesn't disappoint!
Synopsis:
In After Earth, one thousand years after cataclysmic events forced humanity's escape from Earth, Nova Prime has become mankind's new home. Legendary General Cypher Raige (played by Will Smith) returns from an extended tour of duty to his estranged family, ready to be a father to his 13-year-old son, Kitai (played by Jaden Smith). When an asteroid storm damages Cypher and Kitai's craft, they crash-land on a now unfamiliar and dangerous Earth. As his father lies dying in the cockpit, Kitai must trek across the hostile terrain to recover their rescue beacon. His whole life, Kitai has wanted nothing more than to be a soldier like his father. Today, he gets his chance.
Cast: Will Smith, Jaden Smith, Isabelle Fuhrman, Zöe Kravitz, Sophie Okonedo
Director: M. Night Shyamalan
Release Date: June 7, 2013