Adam HD Movie Trailer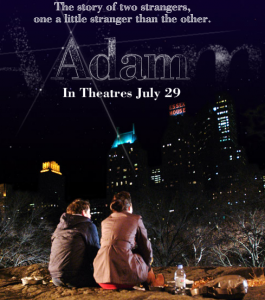 Written and directed by Max Mayer, ADAM stars Hugh Dancy, Rose Byrne, Peter Gallagher, Amy Irving and Frankie Faison.  The film is produced by Leslie Urdang, Miranda De Pencier and Dean Vanech.  Executive produced by Dan Revers, Christina Weiss Lurie and co-produced by Gary Guidice, Geoff Linville.  The film is scheduled to be released in 2009.
Said Fox Searchlight Pictures President Peter Rice, "ADAM has deeply satisfying and romantic storytelling, pitch perfect performances and the discovery of a new American filmmaker; this is what Sundance is all about."
Producer Leslie Urdang stated, "Watching the film with an audience for the first time, hearing so much laughter, seeing all those tears– and then walking out of the theatre and selling it to Fox Searchlight… it is the best possible Sundance experience."
Producer Miranda de Pencier stated, "When you are making a movie, you are always in a bubble and you never know what the outcome is going to be; so, to be able to share the film with such an enthusiastic Sundance audience, and now the impassioned Fox Searchlight, is an utter thrill."
Said Writer/Director Max Mayer, "Before today, I'd seen ADAM a few times in groups of 6 or 8 friends. Hearing an audience of 1400 strangers take the movie into their collective hearts this afternoon was overwhelming, humbling and incredibly gratifying."
The boy and the girl in ADAM are no ordinary characters, and their romance is anything but familiar. Soon after moving in, Beth, a brainy, beautiful writer damaged from a past relationship encounters Adam, the handsome, but odd, fellow in the downstairs apartment whose awkwardness is perplexing.  Beth and Adam's ultimate connection leads to a tricky relationship that exemplifies something universal: truly reaching another person means bravely stretching into uncomfortable territory and the resulting shake-up can be liberating.
The deal was brokered on Fox Searchlight's side by Executive Vice President of Worldwide Acquisitions Tony Safford, Vice President of Acquisitions Ray Strache and Vice President of Business Affairs Megan O'Brien with Andrew Herwitz, President of The Film Sales Company on behalf of the filmmakers.
Fox Searchlight Pictures is a specialty film company that both produces and acquires motion pictures.  It has its own marketing and distribution operations, and its films are distributed internationally by Twentieth Century Fox. Fox Searchlight Pictures is a unit of Fox Filmed Entertainment, a unit of Fox Entertainment Group.