Aaron Sorkin, Creator of "The West Wing", Directing Feature About Former Presidential Canidate, John Edwards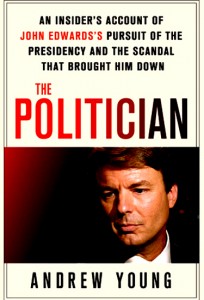 Aaron Sorkin is well known to TV buffs as the creator of critically acclaimed shows such as The West Wing, Sports Night, and Studio 60 on the Sunset Strip, what many people might not know about Sorkin is that he is also the writer for a few movies, including A Few Good Men, An American President, and Charlie Wilson's War. Sorkin is a multitalented man in Hollywood who is a playwright, a producer, and a writer. Now he is going into an arena he hasn't done before on the big screen, directing.
Sorkin has optioned the book "The Politician: An Insider's Account of John Edwards's Pursuit of the Presidency and the Scandal That Brought Him Down", which tells the story of politician John Edwards rise and fall through politics, ending with his scandal. The film will be written, produced, and directed by Sorkin who is basing the  tale off the the book which came onto bookshelves earlier this year.
I've been a big fan of Sorkin for a while, and I was very disappointed when his show Studio 60 on the Sunset Strip was canceled. I'm glad to see his career is still flourishing, and he is writing more screenplays. (Sorkin is the screenwriter on David Fincher's upcoming The Social Network.)
A description of the book:

Idealistic and ambitious, Andrew Young volunteered for the John Edwards campaign for Senate in 1998 and quickly became the candidate's right hand man. As the senator became a national star, Young's responsibilities grew. For a decade he was this politician's confidant and he was assured he was 'like family." In time, however, Young was drawn into a series of questionable assignments that culminated with Edwards asking him to help conceal the Senator's ongoing adultery. Days before the 2008 presidential primaries began, Young gained international notoriety when he told the world that he was the father of a child being carried by a woman named Rielle Hunter, who was actually the senator's mistress. While Young began a life on the run, hiding from the press with his family and alleged mistress, John Edwards continued to pursue the presidency and then the Vice Presidency in the future Obama administration.
Young had been the senator's closest aide and most trusted friend. He believed that John Edwards could be a great president, and was assured throughout the cover-up that his boss and friend would ultimately step forward to both tell the truth and protect his aide's career. Neither promise was kept. Not only a moving personal account of Andrew Young's political education, THE POLITICIAN offers a look at the trajectory which made John Edwards the ideal Democratic candidate for president, and the hubris which brought him down, leaving his career, his marriage and his dreams in ashes.