"A Serious Man" Nominated Best Picture at the 82nd Annual Academy Awards. What Are Your Favorite Coen Brothers Movies?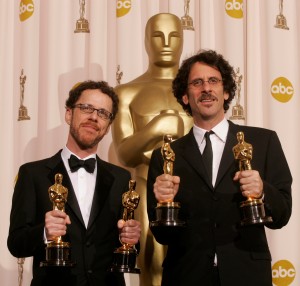 Joel and Ethan Coen, collectively known as "The Coen Brothers," have made some incredible films. You would be hard pressed to find someone who hasn't heard of them, or at least seen one of their movies. And it would be even harder to find someone that doesn't love at least one of them.
Since creating their first feature film "Blood Simple" in 1984, Joel has won 4 Acedemy Awards – 3 of them for "No Country For Old Men" (including Best Picture) and 1 for "Fargo" (Best Writing). He has been nominated 82 additional times, winning 72 various awards. Ethan, most commonly credited for writing and producing, shares the 4 Academy Awards with his brother, has 69 other nominations and 53 wins.
Their latest film, "A Serious Man," is nominated for 2 Academy Awards this year – including Best Picture and Best Original Screenplay. The film was just released on DVD and Blu-ray last week (if you haven't seen it yet, make sure to buy it before the Oscars).
Below is the list of films that the Coen Brothers have brought us over the years. Take a look, and tell us in the comments below which are your favorites and why:
The Coen Brothers
| | |
| --- | --- |
| Blood Simple (1984) | A Texas bar owner hires a private detective to kill his wife and her lover, but things don't go as planned when double-crossing and betrayal abound. |
| Raising Arizona (1987) | A petty crook falls in love with the woman cop who always arrests him, but when they find out she can't bear children, they steal one, hit the road, and lots of mayhem ensues. |
| Miller's Crossing (1990) | Set in 1929, a political boss and his advisor have a parting of the ways when they both fall for the same woman, which eventually leads to citywide gang war. |
| Barton Fink (1991) | Set in 1941, the story focuses on a New York playwright who moves to a seedy L.A. hotel and suffers from writers' block after being recruited to write a wrestling movie for Wallace Beery. |
| The Hudsucker Proxy (1994) | Set in New York circa 1958, a man quickly climbs his way up the corporate ladder at a conglomerate after starting in the mail room. He reaches the position of chairman after the boss takes a dive out the window. |
| Fargo (1996) | Jerry Lundegaard is a car salesman in Minneapolis who has gotten himself into debt and is so desperate for money that he hires two thugs to kidnap his own wife. Jerry will collect the ransom from her wealthy father, paying the thugs a small portion and keeping the rest to satisfy his debts. The scheme collapses when the thugs shoot a state trooper and two innocent bystanders in rural Minnesota, drawing local Police Chief Marge Gunderson into her first homicide investigation. At first unaware that the homicides are connected to a Minneapolis kidnapping, Chief Gunderson draws closer to Jerry Lundegaard as his situation further unravels. |
| The Big Lebowski (1998) | A laid-back Los Angeles bowler named Jeff Lebowski, nicknamed "The Dude", is beaten up by thugs who let him know that his wife owes money to Jackie Treehorn. One problem remains; The Dude has never been married and has never heard of Jackie Treehorn. Realizing the situation is a case of mistaken identity, The Dude discovers another Jeff Lebowski living in LA. This second Lebowski is a millionaire who throws The Dude out of his house, but not before he gets a glipse of Lebowski's wife Bunny. The next day, The Dude gets a call from Lebowski saying Bunny's been kidnapped for a $1 million ransom. Lebowski offers The Dude 20 grand to act as the courier for the money. The Dude agrees, taking along his bowling buddy Walter who suggests they blow off the kidnapping and steal the money for themselves. The Dude disagrees but when Walter hands the kidnappers a bag of laundry, they are in deep. Things only get worse when The Dude's car is stolen with the $1 million inside. |
| O Brother, Where Art Thou? (2000) | In this update of Homer's "The Odyssey," set in the 1930's Depression-era deep South, three convicts–the garrulous silver-tongued Everett, the sweet and simple Delmar and the maladjusted Pete–escape from a chain gang and embark on the adventure of a lifetime. They set out to pursue their freedom and the promise of sharing in the division of a fortune in buried treasure. With nothing to lose and still shackled, they make a hasty run for their lives and end up on an incredible journey filled with awesome experiences and colorful characters. However, they must also match wits with a cunning and mysterious lawman determined to capture them. |
| The Man Who Wasn't There (2001) | In the summer of 1949, a tale of passion, crime and punishment unfolds… Ed Crane is a barber in a small northern California town. Ed is dissatisfied with his life, but his wife Doris' infidelity presents Ed with an opportunity for blackmail that he thinks will help him to change it. However, Ed's scheme unravels and lays bare even darker secrets before leading to murder… |
| Intolerable Cruelty (2003) | Miles Massey, a prominent Los Angeles divorce attorney has everything–and in some cases, two of everything. Despite his impressive client list, a formidable win record, the respect of his peers and an ironclad contract (the "Massey pre-nup") named after him, he's reached a crossroads in his life. Sated on success, boredom has set in and he's looking for new challenges.All that changes when Miles meets his match in the devastating Marylin Rexroth. Marylin is the soon-to-be ex-wife of his client Rex Rexroth, a wealthy real estate developer and habitual philanderer. With the help of hard charging private investigator Gus Petch, she has Rex nailed and is looking forward to the financial independence a successful divorce will bring. But thanks to Miles' considerable skills, she ends up with nothing.Not to be outdone, Marylin schemes to get even and as part of her plan, quickly marries oil tycoon Howard Doyle. Miles and his unflappable associate, Wrigley, unwittingly dig themselves in deeper and deeper as they go head-to-head with Marylin. Underhanded tactics, deceptions and an undeniable attraction escalate as Marylin and Miles square off in this classic battle of the sexes. |
| The Ladykillers (2004) | Goldthwait Higginson Dorr III is a charlatan professor who has assembled a gang of experts for the heist of the century. The thieves are experts in explosions, tunneling and muscle. The professor is their critical inside man. The base of operations is the root cellar of an unsuspecting, church-going, little old lady named Mrs. Munson. The ruse: the five need a place to practice their church music. The problem: it quickly becomes evident that Dorr's thieves lack the mental capacity to do the job. The bigger problem: they have seriously underestimated their upstairs host. When Mrs. Munson stumbles onto their plot and threatens to notify the authorities, the felonious five decide to 'do her in' before she ruins their heist. After all, how hard can it be to knock off an old lady? They'll soon find out. |
| No Country for Old Men (2007) | Set in West Texas, a man on the run with a suitcase full of money is pursued by a number of individuals. |
| Burn After Reading (2008) | An ousted CIA official's memoir accidentally falls into the hands of two unwise gym employees intent on exploiting their find. |
| A Serious Man (2009) | The story of an ordinary man's search for clarity in a universe where Jefferson Airplane is on the radio and F-Troop is on TV. It is 1967, and Larry Gopnik, a physics professor at a quiet Midwestern university, has just been informed by his wife Judith that she is leaving him. She has fallen in love with one of his more pompous acquaintances, Sy Ableman, who seems to her a more substantial person than the feckless Larry. Larry's unemployable brother Arthur is sleeping on the couch, his son Danny is a discipline problem and a shirker at Hebrew school, and his daughter Sarah is filching money from his wallet in order to save up for a nose job. While his wife and Sy Ableman blithely make new domestic arrangements, and his brother becomes more and more of a burden, an anonymous hostile letter-writer is trying to sabotage Larry's chances for tenure at the university. Also, a graduate student seems to be trying to bribe him for a passing grade while at the same time threatening to sue him for defamation. Plus, the beautiful woman next door torments him by sunbathing nude. Struggling for equilibrium, Larry seeks advice from three different rabbis. Can anyone help him cope with his afflictions and become a righteous person–a mensch–a serious man? |
My personal favorites:
1. No Country For Old Men
2. Blood Simple
3. The Big Labowski
4. O Brother, Where Art Thou?
5. Intolerable Cruelty
6. Fargo
7. Burn After Reading
Rate your favorite Coen Brothers films from best to worst! Leave a comment below – which Coen Brothers films do you love? Which ones didn't you care for, and why? Discuss on my.ReviewSTL.com