A.I. Results (4/28/11)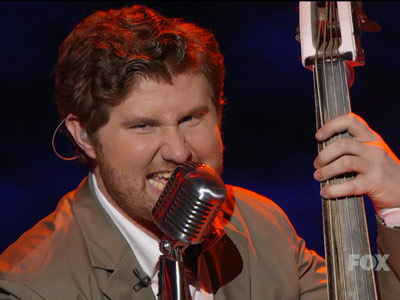 American Idol Recap (4/28/110
Results Show
Last year's runner-up Krystal Bowersox returned to perform on the Idol Stage and later Bruno Mars came on and performed "Lazy Song". The contestants performed as a whole doing a melody to the music of Carole King.
(My Opinion: I actually enjoyed all three of the performances this week, for a change)
Results
Seacrest announces that he's going to bring everyone up, individually and announce the Bottom Three all at once. First off he brings Haley up and sends her back to safety, so she's officially safe. Next Scotty is brought up and sent to the couch in possible jeopardy. After that Lauren is brought up and joins Scotty in possible jeopardy. Casey comes up next and joins Scotty and Lauren. James comes up next and Seacrest sends him to safety. Finally Jacob is brought up and Ryan has the other three (Scotty, Lauren, and Casey) join him on stage. Ryan then sends Lauren back to safety and the boys are the Bottom Three
Bottom Three
#1 Scotty McCreery
#2 Casey Abrams
#3 Jacob Lusk
Seacrest surprisingly sends Jacob back to safety first and it is down to Scotty and Casey for the elimination. This does not go over very well with the crowd or the judges as Ryan announces that Casey Abrams is eliminated from American Idol for good. The crowd goes crazy over this but Casey kind of takes it with a grain of salt and once his finally video plays he play the show off with "I Put A Spell On You"
Now Here's My Opinion On American Idol: The Results- Alright America you are starting to upset me. I mean you seriously got rid of one of the best performers that this show has ever seen. America is continually getting the voting process wrong and I am really starting to think that this show may be fixed. I mean Jacob has been in the Bottom Three for weeks now….again this week…and I have felt all season that he just doesn't have that great of a singing voice, period. If America doesn't get rid of this guy soon then I may just stop watching the show all together. I know one thing now though, and that is that I know the judges are kicking themselves for wasting their "save" on Casey in the third week of the show. If they hadn't wasted their "save" then Pia Toscano could have been "saved" and the competition would be a lot different at this point, I'm just saying!!!! Anyways now that this competition has gotten a lot more clear the coming week's should be interesting to say the least. It's down to five and now there is really only one clear cut favorite and his name is James Durbin, and not Jacob Lusk.
© 2011 Jeff Siler