"24" Canceled After Eight Seasons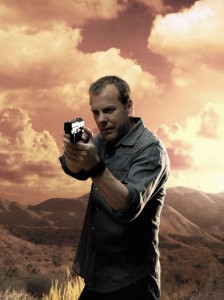 Once upon a time 24 was a rating behemoth that seemed like it could go on forever. Although, for the past few years the series has fallen further and further back in the ratings. The ratings for this season are the worst yet. So, after eight seasons Jack Bauer is being laid to rest.
There has been rumors for a few weeks stating that troubled network NBC was looking to pick up the show to bolster its ratings. Although, the deal apparently never went through, and now many key players with the series have decided to call it quits.
I tried getting into 24 a couple years ago. I went out and bought the first season on DVD. I actually struggled through the first season, and I just could never get into it. The dialogue was stilted, the acting was wooden, and the story was just kind of bland. I had never seen a show so humorless. I don't want wisecracking all the time, but throw me a bone every once in a while. I think you gotta shine some light in the dark sometimes, otherwise everything becomes so overwhelming. I finished the first season, and could never find the drive to start season 2.
So am I missing out? What do you think of the cancellation? Let us know in the comments.