Hope your DVRs are ready folks! The new fall season is just around the corner. If you are anything like me I'm sure you'll have quite a few new shows you want to watch, and I'm sure you will have some you want to avoid.  Let's take a look at the new Fall pilots for NBC.
Trauma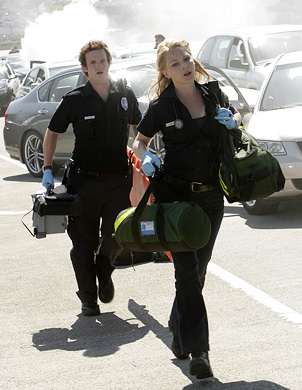 Executive producer Peter Berg (NBC's "Friday Night Lights") delivers "Trauma," the first high-octane medical drama series to live exclusively in the field where the real action is. Like an adrenaline shot to the heart, "Trauma" is an intense, action-packed look at one of the most dangerous medical professions in the world: first responder paramedics. When emergencies occur, the trauma team from San Francisco General is first on the scene, traveling by land, by sea or by air to reach their victims in time. From the heights of the city's Transamerica Pyramid to the depths of the San Francisco Bay, these heroes must face the most extreme conditions to save lives — and give meaning to their own existence in the process. Starring in "Trauma" are Derek Luke ("Notorious"), Cliff Curtis ("10,000 B.C"), Anastasia Griffith ("Damages"), Aimee Garcia ("George Lopez"), Kevin Rankin ("Friday Night Lights") and Jamey Sheridan ("Law & Order: Criminal Intent"). "Trauma" is a production of Universal Media Studios and Film 44. Berg, Sarah Aubrey ("Bad Santa," "Friday Night Lights"), Dario Scardapane and Jeffrey Reiner ("Friday Night Lights") serve as executive producers. The pilot was written by Scardapane and directed by Reiner.
Worth watching? Well, if you love over the top spectacle with hammed up performances. The trailer for this makes the show look exciting in some parts and ridiculous in others. The trailer contains enough Michael Bay worthy explosions that I can't help but wonder if this is to cover up for lack of story. Having not seen the full pilot I can't judge this one fully. From what I gleaned from the preview, the characters look very two dimensional and a little overly dramatic. I think one of the things I liked about ER so much was it's ability to sober you up with it's intense medical drama. Yes, in all honesty it contained just as much spectacle. This one just looks a bit too overdone. We'll see how long a show with a big budget like this lasts in the face of still much worse, but cheaper reality programs. This is a show that will most likely collapse because of its own weight. Does this remind anyone else of the other NBC show, Third Watch?
The Jay Leno Show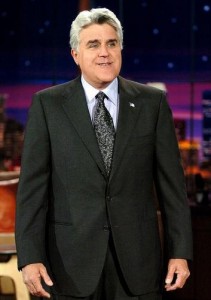 On the final episode of "The Tonight Show with Jay Leno" the host reminded viewers not to get too teary-eyed during his last stint behind the desk he has occupied for 17-years by reminding them that he would be back on NBC this fall with his new venture "The Jay Leno Show" (Monday – Friday, 10:00 p.m. – 11:00 p.m. ET on NBC). "The Jay Leno Show" will premiere on September 14. During his final bow as the host of "The Tonight Show" Leno signed off saying, "Thank you for watching. Please give Conan (O'Brien) as much support as you've given me throughout the years. Good night. We'll see you in September."
Worth watching? This is really NBC atoning for not realizing they could have kept Leno on the Tonight Show for much longer. Although, way to turn a strike into a home run. Leno already has a built in audience and he's cheap to produce compared to scripted shows. This will guarantee them some ratings, it won't beat a lot of other scripted shows though. Most people are willing to watch a talk show at night because that is all that is on. No matter how entertaining a talk show host is, you'll find it hard for it to beat a decent scripted show. Leno will do best during reruns when people will turn to his shows for something that is original. I wonder if Conan O' Brien is a little upset that he has to play second fiddle to Leno yet again? Well, only time will tell if this experiment works. If it does, expect other networks to follow closely on NBC's heels.
Mercy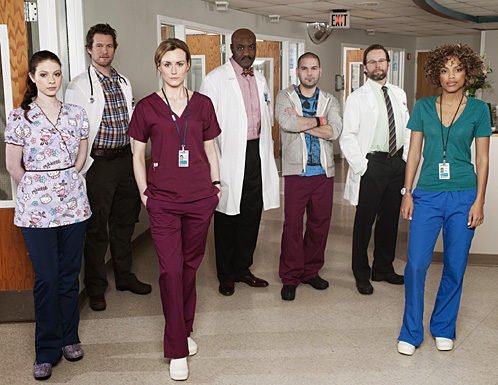 "Mercy," a new medical drama with a unique point of view, portrays the lives of the staff at Mercy Hospital as seen through the eyes of those who know it best — its nurses. Nurse Veronica Callahan (Taylor Schilling, "Dark Matter") returns to Mercy from a military tour in Iraq — and she knows more about medicine than all of the residents combined. Together with fellow nurses Sonia Jimenez (Jamie Lee Kirchner, "Rescue Me") and Chloe Payne (Michelle Trachtenberg, "Gossip Girl"), Callahan navigates through the daily traumas and social landmines of life and love both inside the hospital and out in the real world. The cast also includes: James Tupper ("Men in Trees") as Dr. Chris Sands, a new doctor at the hospital who complicates Veronica's life; Diego Klattenhoff ("Supernatural") as Mike Callahan, Veronica's husband; and Guillermo Diaz ("Weeds") as Nurse Angel Lopez. "Mercy" is a production from Universal Media Studios and Berman Braun. Joining writer/executive producers Liz Heldens (NBC's "Friday Night Lights") and Gretchen Berg & Aaron Harberts ("Pushing Daisies," "Pepper Dennis") are executive producers Gail Berman and Lloyd Braun. Emmy Award winner Adam Bernstein (NBC's "30 Rock," "Rescue Me") is the director.
Worth watching? Oh wow, another medical drama from NBC…imagine that! Ever since the success of ER over 15 years ago NBC has been trying to recreate that same formula with little success.You can't blame them, it to this day remains their most popular show critically and best rated drama they have ever had. Lightning doesn't usually hit the same spot twice (or so I've been told), and it really doesn't look like it is going to happen this season. Of the two medical dramas they are premiering this fall Mercy actually looks the better of the two. The cast looks interesting, but the situations they are put in seem like they have been done many times before on other medical dramas. I like the fact that we are following mainly the nurses instead of the self important doctors like we usually see in medical drams. They may not have as high of a pay grade, but they can get just as much done. My one hope with this show is they figure out a way to make the main character, Veronica a little bit more relatable and likeable otherwise they are going to have a hell of a time selling this show to the general public.
Community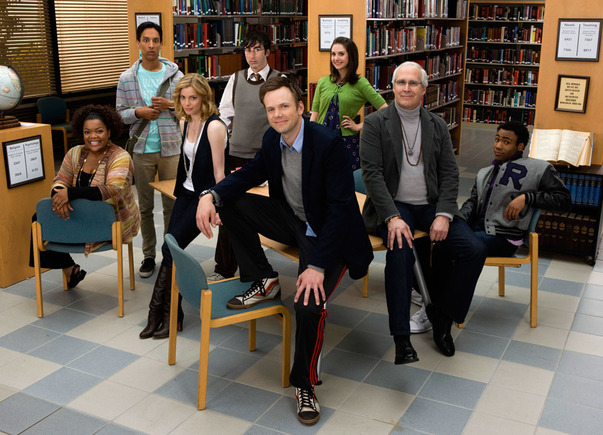 From Emmy Award-winning directors Joe and Anthony Russo ("Arrested Development") comes "Community," a smart comedy series about higher education — and lower expectations. The student body at Greendale Community College is made up of high-school losers, newly divorced housewives, and old people who want to keep their minds active. Within these not-so-hallowed halls, "Community" focuses on a band of misfits, at the center of which is a fast-talkin' lawyer whose degree has been revoked (Joel McHale, "The Soup"), who form a study group and end up learning a lot more about themselves than they do about their course work. In addition to McHale, the series also stars: Gillian Jacobs ("The Book of Daniel"); Yvette Nicole Brown ("Rules of Engagement"); Danny Pudi ("Greek"); Alison Brie ("Mad Men"); and comedy legend Chevy Chase ("Saturday Night Live"). "Community" is a Krasnoff Foster Entertainment, Harmonious Claptrap and Russo Brothers production in association with Sony Pictures Television and Universal Media Studios. Russ Krasnoff ("The Soloist"), Dan Harmon ("The Sarah Silverman Program"), Joe Russo ("Arrested Development"), Anthony Russo ("Arrested Development") and Gary Foster ("The Soloist") serve as executive producers. Joe and Anthony Russo directed the pilot that was written by Dan Harmon.
Worth watching? It isn't the strongest comedy to come out of the fall season (ABC's The Middle and Modern Family both have stronger pilots), it is still a worthy effort. Many of the jokes work in the first episode, but it leaves you with a feeling that it hasn't found its stride.  There is a lot of comedic talent on the bench of this show and it will be up to the writer's to tap into it. Joel McHale seems to transition from host of Talk Soup with relative ease, but his character is just enough of a jerk that sometimes you can't really respect or relate to him. I like seeing Chevy Chase back on the network that launched him to stardom. Let's hope he can bring luck a second time around and give me another good comedy show to keep on my DVR.