"Up in the Air" Scores 6 Golden Globe Nominations for 67th Annual Show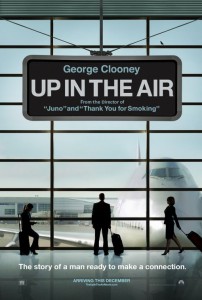 "Up in the Air," directed by Jason Reitman and starring George Clooney, Vara Farmiga, and Anna Kendrick received six nominations for this years Golden Globe Awards. Usually the nominations and awards for the Golden Globes are a pretty good sign of things to come for the Academy Awards.
The film was nominated for best motion picture, best actor (George Clooney), best actress in a supporting role (Vera Farmiga and Anna Kendrick), best director (Jason Reitman), and best screenplay. Reitman penned the screenplay with Sheldon Turner, based on a novel by author Walter Kiern.
"Up in the Air" was released in St. Louis on December 11 in St. Louis, and will open Nationwide on December 25, 2009.
Watch out interview with Jason Reitman about "Up in the Air" and his thoughts on filming: