Yeast Nation Opening Night and After-Party
June 1, 2018 @ 8:00 pm

-

10:30 pm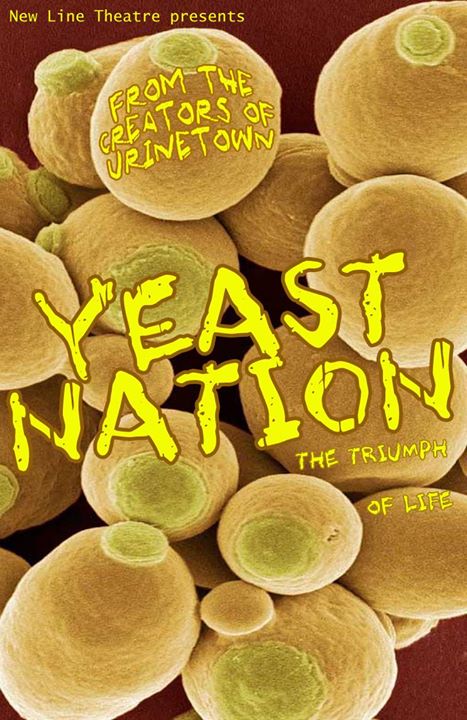 The world's first bio-historical musical comedy, from the mad geniuses who brought you Urinetown!
It is the year 3,000,458,000 BC. The Earth's surface is a molten mass of volcanic islands and undulating waves. The atmosphere is a choking fog lit by a dim red sun. And the mighty waters of the world are inhabited only by rocks, sand, salt, more rocks, a little silt, and the great society of salt-eating yeasts – yes, yeasts! – the worlds very first life form!
These single-cell salt-eaters are the only living creatures on earth, and they're up against a food shortage, a strange new emotion called Love, and the oppression of a tyrannical yeast king. But when the king's son ventures out of the known yeastiverse, the yeasts' story – and ours – is changed forever.
The New York Times, said, "This is the rare satire that knows exactly what it's doing and commits to it." Variety wrote, "Ostensibly, it's about the world's earliest life forms, but it's really a riff on individual human aspiration, love, and theatrical storytelling. While it's an easily recognizable sibling to Urinetown, this show possesses enough uniqueness and consistent cleverness to forge its own path."
With a book by Greg Kotis, and music and lyrics by Mark Hollmann and Kotis, Yeast Nation has been produced four times so far, at the Perseverance Theatre in Juneau, Alaska, in 2007; at the American Theater Company in Chicago in 2009; at the New York International Fringe Festival in 2011; and at the Ray of Light Theatre in San Francisco in 2014. The team has continued working on the show.
Artistic director Scott Miller saw Urinetown in November 2001, right after it moved to Broadway. He says, "It blew my mind. From the very first song, I felt like someone had written a musical just for me." New Line produced Urinetown in 2007. Miller says, "As soon as I read the Yeast Nation script and heard the songs, I knew we had to work on this. It's going to be crazy amounts of fun."