The Zombies of Penzance – World Premiere
September 27, 2018 @ 8:00 pm

-

October 20, 2018 @ 10:00 pm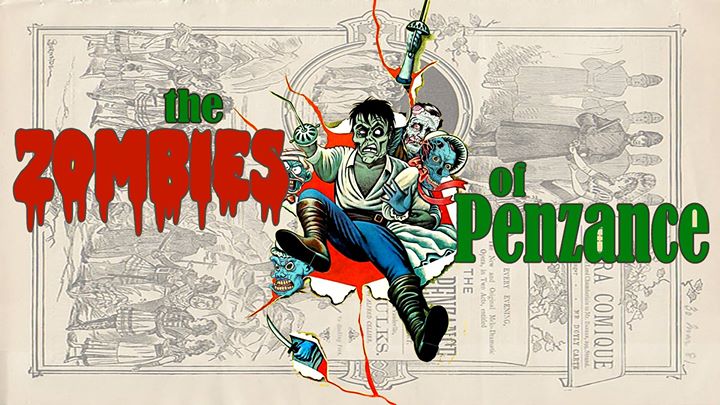 Gilbert & Sullivan's long-lost, original "operatic abomination," in its wacky world premiere!
Join us for Opening Night, Fri., Sept. 28, and come to the After-Party to meet the actors, musicians, and staff!
New Line Theatre, "the bad boy of musical theatre," has shocked the music world by discovering a long-lost first draft by the legendary British team of librettist W.S. Gilbert and composer Arthur Sullivan, who together wrote fourteen comic operas between 1871 and 1896.
One of the team's best known works, The Pirates of Penzance, originally debuted in New York in 1879, and was revived to great success in the early 1980s with Kevin Kline, Linda Ronstadt, and Rex Smith. What we now know is that there was an earlier, stranger draft of the show, which nobody knew about until now, with most of the same characters but a somewhat different plot.
In Gilbert & Sullivan's never-before seen original draft, titled The Zombies of Penzance (with the unwieldy subtitle, At Night Come the Flesh Eaters), Major-General Stanley is a retired zombie hunter, who doesn't want his daughters marrying the dreaded Zombies of Penzance (for obvious reasons). According to documents found with the manuscripts, Gilbert and Sullivan finished work on The Zombies of Penzance in mid-1878, but their producer Richard D'Oyly-Carte refused to produce it, calling it vulgar, impolitic, and unchristian, and in one letter, "an operatic abomination, an obscene foray into the darkest of the occult arts." In a letter to his cousin, Gilbert expressed his deep disappointment, writing "I fear the walking dead shall be the end of me yet."
Until now, music scholars had been baffled by that reference.
After a battle that almost ended the partnership, the team reluctantly agreed to rewrite their show, and in 1879, D'Oyly-Carte debuted the much more conventional, revised version, The Pirates of Penzance, which added the characters of Ruth and the policemen, and eliminated all references to zombism.
In 2013, New Line artistic director Scott Miller discovered the original manuscripts for The Zombies of Penzance in the second sub-basement of the Judson Memorial Church in New York, hidden beneath some moldy band parts from Rockabye Hamlet and Shogun the Musical, and Miller set about reconstructing the bizarre original show as G&S intended. Gilbert's walking dead and their Zombie King now make their long-delayed world premiere. Miller has painstakingly reassembled these rediscovered materials into their original form, filling in the gaps with educated guesses based on other G&S shows and drafts. St. Louis composer and orchestrator John Gerdes is reconstructing Sullivan's music.
Now, for the first time, audiences will be able to see and hear the comic, flesh-eating insanity Gilbert & Sullivan originally wrought.
The New Line cast will include Sean Michael as Frederic, Melissa Felps as Mabel, Zak Farmer as Major General Stanley, Dominic Dowdy-Windsor as the Zombie King, with Mara Bollini, Kent Coffel, Kevin Corpuz, Robert Doyle, Evan Fornachon, Joel Hackbarth, Matt Hill, Lindsey Jones, Melanie Kozak, Sarah Porter, Christina Rios, and Kimi Short. The show will be directed by Scott Miller and Mike Dowdy-Windsor, with music direction by Sarah Nelson, scenic and lighting design by Rob Lippert, costume design by Sarah Porter, and sound design by Ryan Day.
Season ticket go on sale in May, and single tickets go on sale in August.