STL Sticker Bus World Record Attempt
September 9, 2017 @ 11:00 am

-

September 10, 2017 @ 10:00 pm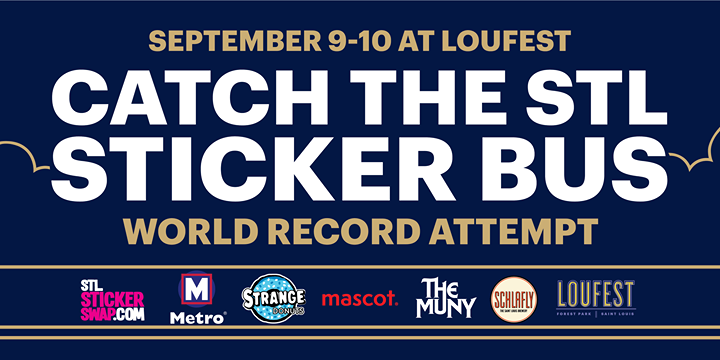 In most cities you can't go a day without passing a bus or bus stop, you probably don't even realize how many of them you pass right by because of how commonplace they have become. We're putting an end to that Sep 9th-10th. The STL Sticker Bus represents diversity, creative expression, and solidarity in sticking together.
STL Sticker Swap is attempting to put 28,000 stickers on a Metro city bus donated by the Saint Louis Metro company. Once the record is broken, our special bus is expected to go around the city and gather the attention of many. Just imagine all the selfies and pictures of the bus on social media! Sounds crazy, right?
We just want your support!
Feel free to mail us your stickers and we will be happy to stick them to the bus!
Mail stickers to:
STL Sticker Swap
c/o mascot agency
1900 Locust Street Suite 300
Saint Louis, MO 63103